SA government and GreenCape launch agri web portal
Posted on : Friday , 11th September 2015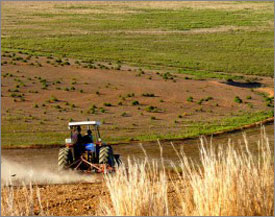 A new web-based portal has been launched in South Africa for farmers in the country's Western Cape
Created by the Western Cape Department of Agriculture, in partnership with development agency GreenCape, the GreenAgri portal aims to secure the longevity of the regions agricultural sector by promoting sustainable farming.
As well as showcasing the latest environmentally-friendly farming practices, the interactive portal will provide information on, and opportunities to debate the government's green policies.
The portal was officially launched this week by the South African minister of economic opportunities, Alan Winde.
Speaking at the launch, Winde said, "More and more agribusinesses are going green. We've launched the GreenAgri portal at Backsberg, which is one of the world's first wine producers to launch a carbon neutral wine. These are the kinds of stories we need to promote."
The portal will also provide support for urban and small-scale farmers, the minister said, by allowing them to communicate directly with the local government's agriculture department.
"We know that factors such as climate change pose a threat to food security globally," added Winde. "Through this portal, we are using technology to give farmers the information they need to farm sustainably."
Source : www.africanfarming.net