Namibia launches national aquaculture master plan
Posted on : Tuesday , 8th September 2015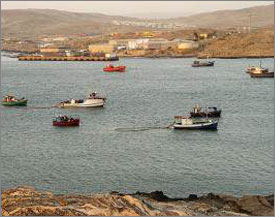 Namibia's Ministry of Fisheries and Marine Resources has launched the National Aquaculture Master Plan to raise the country's aquaculture output
The plan aims to raise freshwater output to 4,000 tonnes per year, as well as to increase marine aquaculture production tenfold, from 525 tonnes to 5,500 tonnes, by 2023. Further, the plan is expected to ensure that the sector provides food, income and employment for rural and urban communities.
Bernhard Esau, Namibia's minister of fisheries and marine resources, said that the plan "was commissioned with the purpose to identify key areas and to provide a road map for sustainable development of marine aquaculture, generating socio-economic benefits to the people of Namibia."
At the launch, Esau set out the key actions required to boost the development of the fishing sector and reinforce the marine aquaculture sub-sector as an incentive to large scale commercial industries that produce high-value species for export.
Esau said that the master plan forms a vital link in Namibia's strategy to secure national and household food supply, reduce poverty and create employment, especially for the vulnerable and poorer communities as it encourages product diversification and economic growth.
The minister added that the rationale for developing a profitable marine aquaculture sub-sector in Namibia remains sound, given its potential contribution to GDP growth and employment opportunities, hence promoting the overall wellbeing of the country's citizens.
The information and concepts presented in the document are intended to guide strategic planning and inform public policies on aquaculture development. The master plan essentially provides a roadmap to create a business and social environment, which is attractive to a wide range of investors, according to Esau.
Source : www.africanfarming.net