Flour Mills of Nigeria to invest US$1bn over five years
Posted on : Wednesday , 2nd September 2015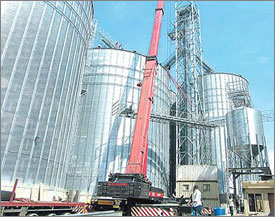 Nigerian agribusiness group, Flour Mills of Nigeria (FMN), is planning to invest about US$1bn in its business over the next five years
Talking to The Guardian, Paul Gbededo, group managing director at FMN, said that the investment will be made with the aim of keeping the company as a top player in the sector, as well as to create more jobs.
FMN is building a new sugar mill in Sunti in Niger State. Gbededo said that the target date of completion and commissioning in May 2016 is achievable because the plant and machinery required have already been imported. This would be followed by an expansion in the cultivation of sugarcane in the 10,000 ha of land the company has acquired along the Niger river.
The company has spent another US$1bn in the last five years on backward integration from its milling business. Gbededo said that the company had acquired its 10,000 ha Kaboji Farm about 10 years ago which has grown to become the biggest mechanised maize farm in the country. He added that soybean is also grown on the farm, and noted that this had been helpful in its vertical integration.
Both maize and soybean from the farm are used in the company's feed mill operations in Ibadan and Calabar. The corn from Kaboji is converted to poultry feed while the soybean is used in the vegetable oil refinery and the soybean meal is utilised in the feed mill.
Gbededo revealed that FMN does not need to import maize any more to run the operations of the processing plants that depend on it. Instead, the company is now aggregating maize nationwide to meet the annual demand of 350,000 metric tonnes from its plants.
Source : www.africanfarming.net