Kenyan seed entrepreneur wins global award
Posted on : Saturday , 18th July 2015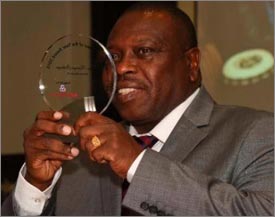 A Kenyan seed entrepreneur Captain (Rtd) James Gichanga Karanja has been awarded the 2015 African Agribusiness Entrepreneur Award. Karanja, who is the CEO of Frescho Seeds Kenya Limited, was announced the winner during the Making Markets Matter executive training programme for the agribusiness sector held in South Africa.
"As the winner of the African Agribusiness Entrepreneur of the Year Award, I am glad to be recognised among the many African entrepreneurs who contribute significantly to empowering smallholder farmers through access to quality and affordable seeds that have been processed through modern technologies," Karanja said in a press statement.
Frescho seeds was founded in 2000 and specialises in the production, processing and distribution of high quality seeds and planting materials to farming communities in Kenya, Tanzania, Uganda, Rwanda and the DRC and want to spread East and Central African countries by 2025.
In his acceptance speech, Karanja said that he was delighted that the world had taken notice of the work his team has been doing over the years adding that the achievement was testament to the fact that the seed industry in Africa was coming of age.
"This achievement has greatly inspired our team and we are more than ever determined to grow our company into a continental business within the next 15 years. The progress of many seed companies in Kenya is deterred by a range of retrogressive policies and regulatory processes that make it difficult for entrepreneurs to establish and efficiently run businesses. Governments should institute reforms to attract a larger number of entrepreneurs into the sector," he said.
The Alliance for a Green Revolution in Africa, Programme for Africa's Seed System (PASS) director, Dr Joe DeVries, said he hoped that the award would send a positive message to other seed entrepreneurs in the region and will encourage them to increase investments in the sector. "An African agriculture transformation can only be achieved if farmers have access to the right seeds, fertiliser and other inputs and if they understand the right agronomic practices to increase their yields," he said.
The award recognises entrepreneurs who have demonstrated outstanding achievements in value-added agricultural innovations in Africa. It is administered by Market Matters Inc., a non-profit organization providing business development services in emerging markets in Africa.
Source : www.hortinews.co.ke