Recycling industry has become a significant growth enabler says Mpact MD
Posted on : Tuesday , 25th August 2015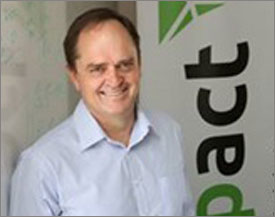 Statistics SA reported that in the first quarter of 2015 unemployment rates reached a 12-year high in South Africa. John Hunt, MD of Mpact Recycling, indicates that this poses a challenge for industry to become more innovative and agile in creating opportunities that contribute to long-term and sustainable employment. A case in point is the recycling industry, which has become a significant growth enabler in the face of hard times.
The unemployment rate in South Africa has slightly increased to 26.4%, compared to 24.3% of the last quarter of 2014 (October to December)*. This means that out of a total of 36 million employable South Africans, only 15.5 million are currently employed and a mere 5.5 million are known to be actively seeking employment. The recycling industry has shown leadership in turning this tide and delivering economic and social benefits by building sub-industries that promote entrepreneurship as well as create tangible employment.
Mpact Recycling is South Africa's largest paper recycler and a division of the JSE-listed Mpact Paper and Plastic Packaging Group (Mpact Group). The Mpact Group formally employs over 4000 people in 32 operations in South Africa, Botswana, Namibia, Mozambique, and Zimbabwe.
However, it is only by embracing a social entrepreneurship empowerment model, in partnering with local entrepreneurs who help to collect recycled paper, that we are able to significantly contribute towards the 100,000 jobs that the Paper Recycling Association of South Africa (PRASA) estimates is created and sustained by the recycling industry.
Creating thousands of jobs
Our success in consistently creating thousands of jobs in the informal sector is achieved through actively creating opportunities for people to start their own recycling businesses. Small business entrepreneurs are encouraged to start paper and board collection businesses, whilst receiving advice, training, (and dependent on the tonnages) equipment from Mpact Recycling. This is aimed at creating employment for people in local communities.
To ensure that these local recycling entrepreneurs are equipped to succeed and grow, Mpact Recycling provides and installs equipment such as balers at its country dealers and suppliers. These machines compress waste paper into cubes or bales, which helps the owners to increase the volumes they are able to process and to reduce the time it takes to do so. The technology also allows the centres to process and store more waste paper, effectively increasing the volume of their sales to Mpact Recycling.
In addition to this, other equipment such as scales, trolleys, bags, bins, and cages are also supplied by Mpact Recycling to assist in increasing the volumes. To date, the company has well over 300 bins and cages used by our small businesses and buy-back centres. This equipment enables and strengthens recycling initiatives, as well as contributes significantly to a number of indirect jobs created thought recycling.
Mpact Recycling has also empowered numerous country dealers to facilitate our collection strategies. Through this system, as well as through schools, communities, trolley-preneurs, buy-back-centres and suppliers, we collect approximately 450,000 tonnes of recovered paper per annum.
Further to this, the group anticipates that its new polyethylene terephthalate (PET) recycling plant will create approximately another 1000 jobs, both directly and indirectly, through collectors of the plastic (PET) bottles needed as input material. This project is regarded as a good fit with the Industrial Development Corporation's chemicals strategy in terms of downstream processing of chemicals, job creation and industrial development.
Sustainability is the key to the success of all businesses and this includes contributing to the economy of the country through job creation. For South Africa to reclaim its rightful place on the global stage as one of the fastest growing developing economies in the world, big business across all sectors needs to come to the party and collectively find a creative solution to curb unemployment.
For us at Mpact Recycling, the culture of recycling is emerging within our country and we will ensure that it continues to have a positive effect on poverty alleviation, enterprise development and economic growth. At the same time, there is the added environmental benefit of reusing a valuable resource and preventing the land filling or incineration of used paper.
Source : www.bizcommunity.com