WAATCO to establish tractor assembling plant in Ghana
Posted on : Monday , 24th August 2015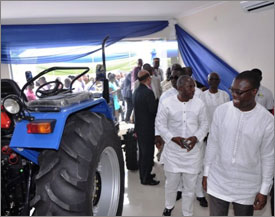 GHANA - The West Africa Agro-Tech Company Ghana Limited (WAATCO) would in the next five years establish an assembling plant in Ghana to deliver 5,000 tractors at a cheaper price to support the agriculture sector.
The company would also train the youth both in and outside Ghana on how to generate opportunities in various fields of technology and service to farmers.
Mr Akoliya Patel, Managing Director, WAATCO Ghana, announced this during the inauguration of the company's showroom in Accra, showcasing Indian made Sonalika tractors, farming machines, service centre, training centre and spare parts depot.
He said the company would soon launch mobile tractor service vans which would move across the country to offer after sale services, repair and maintenance to farmers as part of the package which comes with trading with them.
"This we believe will guarantee the lifespan of tractors and also reduce the long distances farmers have to travel to seek spare parts and technical supports in some cases," he added.
There are plans to also invest $ 200 million within the next five years in the agriculture sector if Government extend the necessary support to agriculture in the form of subsidies, among others.
He said the company had commenced preparations to establish another showroom in Tamale to serve farmers in northern Ghana as well as those in the Sahel region.
Mr Fifi kwettey, Minister of Food and Agriculture, who inaugurated the facilities, appealed for investments in the agriculture sector as it employed more than 50 per cent of the total Ghanaian population.
He said the opening of WAATCO office in Ghana was a clear indication of the growing partnership between Ghana and India.
"This is a huge collaboration between the people of Ghana and India which will bring a lot of transformation into the agriculture sector of this country," he added.
He noted that the use of technology in the agriculture sector would serve as a huge motivation to the youth who are not ready to venture into agriculture because they see it to be full of hassle and suffering.
He reiterated Government's commitment towards the agriculture sector, adding that the Executive is ready to support any private entity ready to invest in the sector.
He expressed appreciation to Mr Philip Abayori, President, Ghana Agriculture Chamber of Commerce, and urged stakeholders to register with the chamber to serve as facilitators for their investment in the agriculture sector in the country.
He praised WAATCO for the collaboration with the Chamber, leading to the setup of the showroom and training centres.
"Belonging to the Chamber gives credence to enhance the credibility of an enterprise or an entrepreneur of engaging into a legitimate business which has reference to assist you achieve your aim and objective," he added.
Source : www.agribusinessafrica.net