Grow Africa to support livestock, horticulture sectors to spur exports
Posted on : Monday , 24th August 2015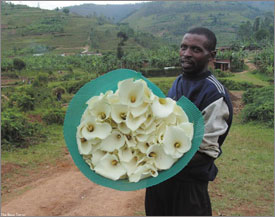 RWANDA - Rwanda and Grow Africa, an African Union agency, have partnered in a deal that seeks to increase investments in the country's livestock and horticulture sectors.
Dr Geraldine Mukeshimana, the Minister for Agriculture and Animal Resources, said the partnership would enhance the productivity of the two sectors, as well as export volumes and foreign exchange receipts.
"Horticulture and meat processing have the potential to significantly improve our exports," she noted.
Grow Africa is the brainchild of the African Union (AU), the New Partnership for Africa's Development (NEPAD) and the World Economic Forum.
It works to increase private sector investment in agriculture, and to accelerate the execution and impact of investment commitments. It also aims at enabling countries to realise the potential of the agriculture sector for economic growth and job-creation, particularly among farmers, women and youth.
Addressing a meeting in Kigali on Tuesday, Mukeshimana said the partnership with Grow Africa will expand Rwanda's export base and help bring down the trade deficit gap.
Golden Circle, a local private sector investment group, has also committed to increasing investment in the agriculture sector to spur production, quality and agro-exports.
Under the second Economic Development and Poverty Reduction Strategy (EDPRS II), government is targeting to increase exports by 28 per cent annually by 2018.
The partnership is therefore expected to offer stakeholders in the two sectors much-needed impetus to increase output.
Already, a project aimed at increasing beef production and enhancing the livestock value chain in general has kicked off in Gako, Bugesera District in the Eastern Province. The project will integrate fodder production, cattle and goat rearing - on a commercial basis, ministry officials said in June.
The National Agriculture Exports Board (NAEB) is also spearheading investments in the horticulture sector, especially floriculture, and fruit and vegetable growing as part of efforts to increase production and ensure sustainable supply to regional and European markets.
Currently, Rwanda's meat products are exported to Eastern Democratic Republic of Congo, Gabon and the Republic of Congo.
Beef exports rose by 28.8 per cent over the first seven months of 2015, raking in over $6 million, according to statistics from NAEB. The country is targeting about $22 million from beef exports this year.
According to Arne Cartridge, the Grow Africa chief executive officer, the partnership presents Rwanda an opportunity to promote private investments in agriculture.
Meanwhile, Rwanda will next year host the Grow Africa Investment Forum that will discuss mechanisms on how to woo the continent's private sector into agriculture.
Cartridge urged government to use the forum to market investment opportunities in the agriculture sector.
Source : www.agribusinessafrica.net