Nigeria: Nabg to Invest N360 Billion in Development of Agribusiness
Posted on : Friday , 21st August 2015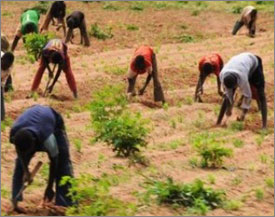 The Nigerian Agribusiness Group (NABG) said the group would invest N360billion in the development of agribusiness across the 22 States of Nigeria.
Permanent Secretary, Federal Ministry of Agriculture and Rural Development, Sonny Echono, stated this at the First Annual General Meeting of NABG held in Lagos.
Echono said the investment of such funds would undoubtedly help to create jobs for our teeming youth population and women and help to lift millions of farmers out of poverty.
The NADG is a private sector agribusiness group led by Sani Dangote.
He noted that the engine of growth of any economy is the private sector, adding that unfortunately for decades, agriculture was treated as a development programme, with dominance of government, in many cases crowding out the private sector.
He said: "We have ended the dominance of government and I am optimistic that the private sector will lead Nigeria in restoring its past glory in agriculture.
"I am confident that the NABG will continue to play an important role in the new administration of H.E. President Muhammadu Buhari, GCFR.
"I am confident that the group will continue to attract viable local and foreign direct investments into agriculture and agribusiness together with our Development Partners and other MDAs.
"In 2013, we commissioned a study survey of 75 leading agribusinesses in Nigeria, which showed that serious challenges were faced by agribusiness investors in Nigeria.
The results, including the following, by percentage of respondents were as follows: Infrastructure (72%), Financing (56%), Supply security (55%), Government regulations, tax and policies (53%)
Other constraints, according to Echono, included human capital (45%), security (39%), land (24%) and government coordination (19%).
He assured that the Federal Government was working tirelessly to eliminate these constraints at the Federal Ministry of Agriculture and Rural Development.
He said through the development of the Staple Crop Processing Zones (SCPZs) and Agribusiness Investment Regions (ABIR), the government was addressing the issue of infrastructure and security of supplies constraints.
"We are leveraging Commercial Agriculture Credit Scheme (CACS) and Nigerian Incentive Based Risk Sharing for Agricultural Lending (NIRSAL) and Funds for Agricultural Financing in Nigeria (FAFIN) for financing;
"We are leveraging the Growth Enhancement Support Scheme (GES) and Agribusiness Investment Regions (ABIR) to ensure security of supply of raw materials.
"The Nigerian Agribusiness Group can help in these areas, by articulating the position of private sector agribusinesses on matters relating to policies, legal and regulatory environments" he said.
Source : allafrica.com