Namibia green scheme to target barley farming
Posted on : Thursday , 20th August 2015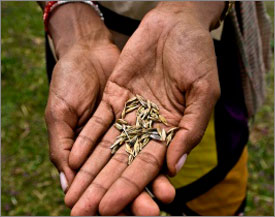 More of Namibia's green scheme projects are to be used to cultivate barley, it has emerged this week
Local newspaper New Era reported today that Namibia Breweries Limited (NBL) and agribusiness investment and consulting firm Agribusdev had signed a memorandum of understanding (MoU) for the production of barley at some of the sites.
It is hoped that using the land, which is irrigated and run under public-private partnerships (PPPs), will help to reduce the southern African country's reliance on barley imports, which currently stand at 45,000 tonnes a year.
Speaking at the signing ceremony, the acting permanent secretary of the Ministry of Agriculture, Water and Forestry (MAWF), Abraham Nehemia, said the three parties signed the MoU to promote and implement a 10-year Barley Industry Development Plan.
The aim of the plan, he was quoted as saying, was to broaden Namibia's industrial base, boost local crop production and improve the country's capacity for beverage manufacturing through local sourcing, while supporting growth and increased employment.
A full project agreement between the parties, which will see around 2,500 jobs created, is due to be signed by May/June 2016.
Source : www.africanfarming.net