Nigeria urged to improve its cocoa production
Posted on : Tuesday , 18th August 2015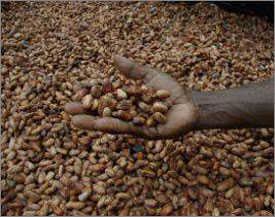 The International Cocoa Organization (ICCO) has urged Nigeria to benefit from its US$400mn fund to improve cocoa production
Jean-Marc Anga, executive director at ICCO, said that Nigeria stood in very good stead to draw from the fund, given its strategic status as one of the major cocoa-growing nations in the world.
Addressing participants at a cocoa industry event at Calabar in Nigeria recently, Anga said, "Through its membership of the ICCO, Nigeria has benefited, among others, from ten major development projects. Each of these projects has tackled specific issues and challenges faced by the Nigerian cocoa sector, namely, farm management practice, market access, competitiveness and price risk management."
Nigeria has received about US$40mn from ICCO, having contributed less than US$4mn of its own money toward the cocoa sector. Anga said that by his projection, there will be global deficit of one million tonnes of cocoa by 2020, which would increase the demand from producers of cocoa-based products. He urged Nigeria to increase its cocoa growing capacity form the current 350,000 metric tonnes annually, and said that the future direction for the industry would depend on government policies.
Specifying the activities that the fund could be used for, he said the money was meant "to increase value-added cocoa production; to promote chocolate consumption; to empower women in the cocoa value chain; to develop profitable cocoa farming models; to improve access to credit; and to increase market access."
Speaking at the same event, Malachy Akoroda, executive director of Cocoa Research Institute of Nigeria, said that cocoa remains the country's highest foreign exchange earner outside crude oil. Appealing for favourable government policies, he said, "What is important is that cocoa remains number one on the non-oil export in Nigeria."
Source : www.africanfarming.net