Guinea-Bissau gets US$10mn for agriculture project
Posted on : Friday , 14th August 2015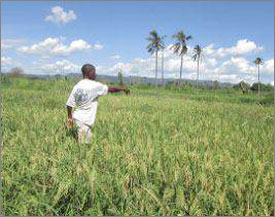 India's Kirloskar Brothers Limited (KBL) group has committed to provide US$10mn to increase agricultural production in Guinea-Bissau
An agreement finalising the funding was signed by Daniel Gomes, Guinea-Bissau's minister of natural resources and Sanjai Kirloskar, chairman of KBL, in Bissau earlier this week. The agreement specified the sectors on which the funding is to be spent. According to it, the money is intended to be channelled into rice production to ensure food self-sufficiency for the local population. A part of it is also to be spent on horticulture and fruit growing as well as on collecting water for cattle troughs and training of agricultural technicians.
Kirloskar also made assurances that if the current venture proved to be successful, his group would provide another US$30mn to finance a second phase of this project. Gomes lauded the company, saying the government was happy at its involvement in the project that will benefit the local agriculture industry. The minister also said that work on the project would start as soon as funding was received, beginning with the city of Bafatá in the east of the country.
This agreement is part of the partnership established by the Ministry of Natural Resources for the development of programmes that are considered to be a priority.
KBL is an Indian conglomerate which exports its products, including hydraulic pumps and gensets, to more than 70 countries in Africa, Southeast Asia and Europe.
Source : www.africanfarming.net