Kenya: Grain Farmers to Get Asset Financing At 9 Percent
Posted on : Thursday , 9th July 2015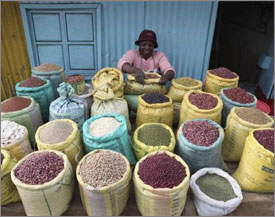 Transnational Bank has partnered with BrazAgro, a farm machinery dealer, to issue grain farmers with funds to purchase storage facilities at an interest rate of 9pc.
The financing would be pegged against warehouse receipts with farmers accessing credit for up to 60 per cent of the value of their grains stored at warehouses.
The farmers are to acquire metallic silos for storing grains to mitigate post-harvest losses caused by grain borer and aflatoxin. Each silo will retail for Sh430,000.
GRAIN BORERS
"This partnership will help small scale holder farmers producing up to 6 tonnes to safely store their maize safety away from grain borers and Aflatoxin poisoning," Transnational Bank's chief executive officer, Sammy Langat, said Thursday in Nakuru.
Aflatoxin poisoning and grain borers present a major challenge to farmers who store their produce in inappropriate moisture conditions. It is estimated that farmers lose between 30 - 40 per cent of their yield to post-harvest losses.
"This will ensure that farmers in the country tremendously reduce their post-harvest losses," BrazAgro Commercial Director, Maina Kariuki noted.
Source : allafrica.com