Rwanda launches farm mechanisation campaign
Posted on : Wednesday , 12th August 2015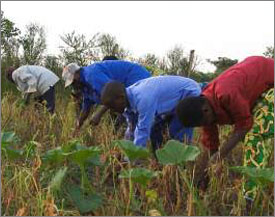 Rwanda has launched a nationwide campaign to promote agricultural mechanisation to improve the country's agricultural productivity
At present, agricultural mechanisation in Rwanda stands at 13 per cent, up from three per cent in 2009. The government plans to raise it to 25 per cent by 2017 and 50 per cent by 2020.
Use of machines in farming is expected to increase agricultural productivity and enhance quality along the value chain, according to Tony Nsanganira, state minister for agriculture. Nsanganira said that farmers will be trained on the use of implements such as ploughs and spraying and irrigation equipment which will help modernise the agriculture sector.
"We want farmers to modernise farming methods to improve crop production to ensure food security and increased family household incomes," he announced at a gathering of farmers at Musegera in eastern Rwanda, where the nationwide campaign was launched.
Accompanying this drive, there has also been intense personnel training on agricultural mechanisation at two technical institutes, Gishari Integrated Polytechnic and Integrated Polytechnic Regional Centre - South.
Farmers, agricultural experts and agriculture equipment dealers expect mechanisation to attract investment in the sector.
According to a report by the Institute of Policy Analysis and Research-Rwanda (IPAR-Rwanda), the biggest challenge to agriculture in the country is over-reliance on the hand hoe extensively used in human labour.
IPAR-Rwanda's report said, "Mechanisation is a powerful tool in achieving agricultural productivity because it enhances human capacity." The research body recommends increased use of farm inputs, notably fertilisers, improved seeds and pesticides to provide a significant boost to agriculture in the country.
The agriculture sector employs more than 70 per cent of the Rwandan labour force and contributes about 31 per cent of the GDP, the highest proportion for any sector in the country.
Source : www.africanfarming.net