World Bank funding project for Kenyan pastoralists
Posted on : Tuesday , 11th August 2015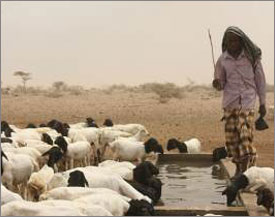 The World Bank, in collaboration with the Kenyan government, is funding a US$83mn project to help pastoralists in northern Kenya
Named the Regional Pastoral Livelihoods Resilience Project (RPLRP), the project will improve livestock markets, enhance health services and ensure pastoralists access to financial services. The project will also support the establishment of pasture banks along traditional grazing routes.
The World Bank will extend a credit facility worth US$65mn towards the project, while the Kenyan government will provide another US$18mn for RPLRP. At least 14 counties will benefit from the project.
"We should focus on disease control, provision of water and markets for the pastoralist communities. We should help boost the pastoralists' economies through this project," said William Ruto, Kenya's deputy president during a meeting with World Bank officials and governors from the affected regions.
The World Bank called for optimum utilisation of funds to help realise the goals of the project.
"There was need to build capacity before investments are made in the pastoralist regions," said World Bank's Stephane Forman, while calling on governors of counties with international borders to work closely with neighbouring countries. Forman added that the World Bank was considering extending the project to Ethiopia, Sudan and Uganda as pastoralists in those countries faced similar challenges as their counterparts in Kenya.
Kenya's pastoral livestock sector is estimated to be worth about US$800mn.
Source : www.africanfarming.net