East Africa: Vodafone Powers Ugandan Farmers
Posted on : Sunday , 9th August 2015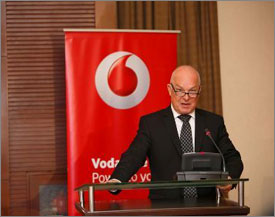 Kampala - More use of ICT could help ease some of the most pressing problems associated with commercialising agriculture in Uganda.
During the 'Vodafone power talks' that took place a few days ago, farmers and ICT experts came together to discuss how they can use ICT to enhance agriculture production.
Ronald Katamba, the founder of Afrosoft who deal in designing software that solve problems gave a smile to farmers when he introduced his Jaguza livestock application.
This is software that can detect diseases in animals days before the actual disease manifests itself openly.
"I developed this software basing on the common challenges that are faced by farmers in Uganda. Farmers have lost hundreds of animals especially when there is a serious livestock disease outbreak. With this software, diseases can be detected early so that prevention measures can be undertaken.
"Technology is now the missing part in the agriculture sector for it to finally become Uganda's gold mine," Katamba said.
Jaguza is for now being used in seven stock farmers in Uganda where the animals are marked with an identification number and then a device is attached to them which can seen and monitored using a mobile phone or a computer.
In case there are changes in the temperature or breathing rates of the animal, a message is sent to your phone to inform you about the changes in an animal and then you can call in a veterinary doctor look at the animal and give preventive measures.
According to Katamba, if enough money is invested in agriculture, every problem including crop diseases and preservations can be solved with the use of technology.
Richard Kintu, another ICT expert and the principal consultant, FIT Uganda has come up with the InfoTrade application.
He regretted that most Ugandan farmers do not embrace the use of the internet to develop their agri-busineses.
He said Uganda will remain a developing country, because farmers will not be able to sell their goods on the international market.
"InfoTrade gives opportunities to farmers to market their goods on line and also get financial assistance without need to make proposals to banks because all the needed information will be on your page.
Other services include information on the prices of all goods in different parts of the country, determination of the weather but also being able to get known all over the global. This is an opportunity for Uganda o finally shift from subsistence farming to commercial farming because now it will be easy to access finances and markets," Kintu said.
However farmers expressed their worries at the way government and the private sector is running and leaving them behind.
It was suggested that most of the innovations seem to be targeting big farmers or commercial farmers yet almost 80% of farmers in Uganda are smallholders and largely not formally educated.
"How then will we be able to benefit from these innovations because first, we do not have the money to buy these softwares, neither the knowledge on how to run them?" Ambrose Asiimwe Ambrose, a farmer queried out aloud.
Other challenges concerning the use of technology that farmers pointed out included power networks in villages where the actual farms are and the inapplicability of some of the innovation since they are focusing on finding market and yet even production is still low in most parts of Uganda.
However the Jackie Namara, the head of marketing at Vodafone Uganda pointed out that although the use of technology in Uganda is still a new thing, it is a necessity.
She said in future all farmers will require to gain commercially from agriculture on a global market. Consequently it is important for government and private organisations to invest more in agriculture like educating farmers and putting up infrastructure that support these technologies.
"We can do as much in innovating these amazing applications and providing cheap internet," she said.
Source : allafrica.com