Coca-cola Ghana Replaces Spirte's Recognizable Green Pet Bottle With a More Environmentally Friendly Option.
Posted on : Thursday , 7th September 2023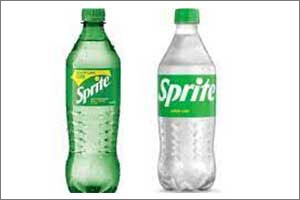 By discarding its recognizable green packaging and switching to clear Polyethylene Terephthalate (PET) plastic bottles, Sprite, a Coca-Cola brand product, has started a transformative journey towards sustainability in Ghana.
This daring approach has renewed the packaging for the Sprite portfolio and strengthened the company's commitment to environmental responsibility.
The refreshed look of Sprite now has transparent bottles, allowing customers to see the reviving ingredients inside.
The redesigned package now includes a revived portrayal of the brand's signature "spark," which is accented with a vivid green cap and a separate label for each version.
According to a statement made by the Coca-Cola Company, people are urged to continue enjoying the delicious sparkling lemon-lime beverage they love while also being aware that their PET bottles may easily be recycled to create new ones.
Each bottle will have a distinctive label and a closure in a different color to make it easier to distinguish between different Sprite varieties.
Notably, Sprite Zero Sugar has already embraced this modern aesthetic with its vivid green label emphasized by a black flash and a matching green cap, and it is conveniently offered in all retail establishments and Coca-Cola distributors across the country.
This switch from green to clear PET is in line with Coca-Cola's ambitious World Without Waste strategy, which aims to collect and recycle the equivalent of every bottle or can it sells and to use at least 50% recycled material in its packaging by 2030.
In addition to reinforcing the principles that the system promotes, Felix Gomis, Managing Director of the Equatorial Coca-Cola Bottling Company's (ECCBC) West Africa Countries Business Unit, explained how this shift will also make the recycling sorting process simpler.
"Our vision is to enhance our capacity to produce easily recyclable products through clear PET, ultimately generating more value," he stated.
Gomis stressed the need for everyone to do their part to protect the environment and how switching to clear PET packaging helps customers to help Ghana achieve a genuinely circular economy.
Seshnee Naidoo, Franchise Director for the Equatorial Africa Region at Coca-Cola Africa, highlighted the significance of this transition, stating, "The future is clear. We're on a journey to a World Without Waste, transitioning to clear Sprite packaging, which means that more of our plastic can be collected, recycled, and repurposed into new bottles."
Sprite, which bravely adopts eco-friendly packaging, not only provides a pleasant beverage experience, but also sets an inspiring example of sustainability and environmental responsibility.
This initiative sets the path for a more environmentally friendly future in Ghana and shows that even well-known companies can make a significant contribution to protecting the environment for future generations.
Source : www.afrikennews.com