In Association With Journey's End, Interpunkt Introduces a Paperboard Wine Bottle
Posted on : Tuesday , 13th June 2023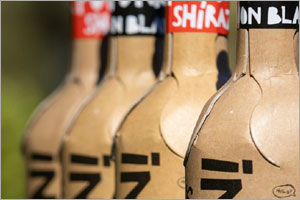 The award-winning boutique estate Journey's End Vineyards and Andrew Ingham's new wine label Interpunkt have teamed up to introduce a ground-breaking line of wines in sustainable paperboard bottles.
Soon, select Checkers, Checkers Hyper and Checkers LiquorShop locations will carry the environmentally friendly wine packaging because they are 100% recyclable and five times lighter than a typical glass bottle, the sauvignon blanc and shiraz wine collection has a smaller environmental effect.
By deleting the technical and sometimes scary jargon that is frequently used on wine labels, Interpunkt has also tried to make the two wines more interesting, approachable and inclusive.
The founder of Interpunkt, Andrew Ingham, is adamant that the customer should come first and be provided with tasty, environmentally friendly wines without bother.
Ingham Stated: "All too often wine brands are talking and selling to one group only; the wine engaged. Yet the biggest group of wine drinkers (68%) are new to wine, occasional wine drinkers or unengaged.
"By introducing wine drinkers to a new accessible brand in forward-thinking packaging, which also prioritizes trusted, ethically and sustainably sourced grapes, I believe we can show people that good wine is for everyone."
For this reason, Journey's End, which is renowned for its top-notch wines and esteemed winemakers as well as for its ecological and ethical accreditations, was chosen as a partner by Interpunkt.
For wine businesses, finding less-heavy and more environmentally friendly packaging options to glass has become more important.
According to reports, paperboard bottles can be up to five times lighter than a typical glass bottle, making them simpler to carry and more portable.
Their carbon footprint is also said to be up to six times (84%) lower than that of a glass bottle and more than a third lower than that of a bottle made entirely of recycled plastic.
Source : www.newsken.com