Sidel helps Ghana open an aseptic production line.
Posted on : Thursday , 4th May 2023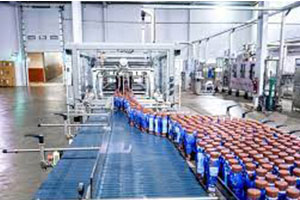 Ghana's first locally made and aseptically bottled chocolate milk is purportedly being produced by the Cocoa Industry using Sidel's Predis aseptic dry sterilising line technology.
Tetra Pak processing systems technologies, the Sidel Aseptic Combi Predis, dry preform and cap sterilisation systems, a sleeve labeller, a shrink-wrapping system and a stretch wrapper are integrated into the 16,000 bottles per hour aseptic PET line.
Additionally, Sidel provided its plant intelligence system and data acquisition tool for efficiency improvement. By lowering waste and costs, increasing factory output and reducing unplanned downtime, this aims to benefit its beverage company clients.
Sidel vice-president of sales for Middle East and Africa Bassam Oussaifi Stated:"We are delighted that this project is helping our customers move a further step towards its vision of becoming Africa's leading producer of cocoa products."
Niche Cocoa Industry's CEO Edmund A. Poku stated: "Aseptic liquid dairy products are complex to manufacture and this was a new area for us. Sidel's technical experts and dedicated local sales and project management teams collaborated with us to share knowledge and provide guidance."
Established in 2011, Niche Cocoa Industry produces semi-finished cocoa goods for export, including cocoa liquor, butter, cake and powder.
In 2022, Sidel plans to open a new regional office in Nairobi, Kenya, to service clients throughout East Africa as part of its ongoing growth of operations in Africa.
Source : www.packaging-gateway.com