Silafrica, A Leading Manufacturer Of Packaging For Consumer Goods in East Africa, Has Unveiled Recyclable Multipurpose Crates.
Posted on : Tuesday , 28th February 2023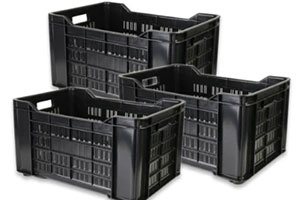 Farmers and Silafrica, the top FMCG packaging company in East Africa, worked together to develop two sustainable multipurpose box designs that minimise crop loss while in storage and transit. The two types of containers are stackable and nestable.
Empty nestable containers can be nested together, as the name implies. The area needed for returns is reduced as a result. Reduced space requirements result in lower transportation costs, which in turn lowers your operating costs (OpEx).The most important aspect of generating higher margins is gaining more money in sales revenue while spending less money on OpEx, which is combined with increased quantities converted to sales as a result of improved produce protection.
A designated area on the nestable crates can be used to affix radio frequency identification tags, which will allow for increased tracking, fewer write-offs, and greater visibility of your supply chain cargo overall.
The three-part partitioning of the stackable crates, on the other hand, enables the packaging of up to three articles in a single crate.This is crucial when moving goods from a point of sale to a place of consumption or from an aggregation point to a fulfilment centre in the last mile.It would be more cost-effective to transport several products in the same storage in both scenarios because the required quantities of a certain product could be tiny.
The nestable crates are appropriate in the early phases of the supply chain, when mass transit of similar goods to gathering points or storage facilities is the rule. This is how the two designs complement one another.From there, a variety of different products can be transported via stackable crates to fulfilment centres, places of sale or consumption locations.
Farm produce protection is the first checkbox while choosing packaging.Sustainability is crucial because we don't want to exhaust our natural resources and leave a world where our children and grandchildren lack the means to achieve their ambitions.While in the past choosing packaging necessitated making trade-offs between crop preservation and package sustainability, modern technologies allow us to have our products well preserved
Source : https://marcopolis.net