ALPLA establishes a new production facility in South Africa as a plastic packaging and recycling specialist
Posted on : Monday , 12th December 2022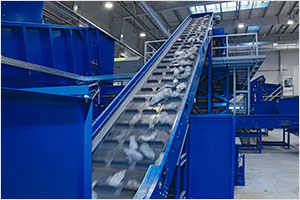 The newly built production facility in Lanseria, close to Johannesburg, established at a cost of US$50m, has combined the five prior sites in South Africa under one roof, according to Austrian plastic packaging and recycling company ALPLA Group.
The new building includes 35,000m2 of covered production, administrative, and storage space, and is referred to as the company's new sub-Saharan Africa hq.Additionally, it features 30,000m2 of roof space covered with solar panels, one of the largest solar installations on a privately held manufacturing building in South Africa, and an additional 12,500m2 of capacity for future growth.
The location, according to the packaging expert, combines technology, procedures, and materials that were previously used at the facilities in Harrismith, Denver, Isando, Kempton Park, and Samrand.
After two years of building, the new facility is now open and will produce over 3.5 billion pieces of bottles, closures, and special packaging annually for a variety of industries, including food, personal and home care, chemicals, cleaning products, and medicines.
Six different technologies are used by ALPLA, including extrusion blow moulding, injection stretch blow moulding, and injection and compression moulding.
"Sub-Saharan Africa as a whole is on the rise, and the markets offer huge potential. We have made a strong commitment to the continent by investing in South Africa.
According to ALPLA CEO Philipp Lehner, "by doing so, we are enhancing our competitiveness and ensuring the long-term regional supply of safe, economical, and sustainable packaging solutions."
ALPLA has created a dual education and apprenticeship programme and is advertising its own specialized training with the new facility in Lanseria.
The first 12 South African apprentices are scheduled to start their training in 2023 at the Future Corner training facility in Lanseria in the trades of plastics technology and machining technology.
Barbara Creecy, the South African Environment Minister, praised the company during the event for promoting sustainable production, which included sourcing 10% to 15% of its energy needs from renewable sources.
"The opening of this factory marks a new turning point in Austria and South Africa's relationship. It confirms that foreign investors continue to have faith in our nation as a destination", Creecy acclaimed.

She thanked Austria for helping South Africa achieve its industrialization ambitions through investments like this one; ALPLA invested US$50 million in the new factory.
Creecy also praised the business for spending roughly R820 million (US$44.2m) on local purchases.

Source : www.foodbusinessafrica.com