Agriculture stakeholders in Africa promise to take more steps to increase food production.
Posted on : Tuesday , 4th October 2022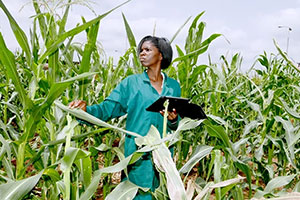 The decision to act decisively and quickly to put into practise realistic measures to increase food production on the continent was made by policymakers and stakeholders in the African agriculture sector.
The resolutions from the Africa Green Revolution Forum (AGRF) conference, which took place in Kigali, the capital of Rwanda.
According to a statement released following the summit, "Current and former Heads of State and Government declared their commitment to supporting and guiding efforts to build food security and transform food systems, as well as build a sustainable, profitable, and productive agricultural ecosystem in Africa."
The leaders expressed their resolve to allocate more funds to agriculture and pledged to forge stronger alliances both within and outside of Africa, especially with Commonwealth member states, it was reported.
Geraldine Mukeshimana, Rwanda's minister of agriculture, closed the summit by stating that it had been highlighted throughout that "we cannot just keep talking and without acting."
From from point forward, there should be less words and more deeds. Africa must now find solutions to its issues, and we must act independently to create resilient food systems that can survive outside shocks, she said.
Over 2,400 people attended the event, one of the largest forums for African agriculture, in Kigali, while more than 4,000 more participated digitally.
It emphasised the value of cooperation in accelerating development as well as strengthening capacity in response to the different shocks now hitting the continent's agricultural systems.
The conference also emphasised the need to increase food production in Africa, minimise its dependency on imports, and cut back on government spending.
It also stressed the crucial part played by the private sector, pointing out that government leadership and financial innovation must be supported by business leaders.
Participants agreed that there are many prospects in Africa's agriculture sector but stressed the importance of swift action and concerted efforts in order for the continent to be able to produce enough food for its people and economies.
Each year, at the AGRF summit, heads of state and government, ministers of agriculture, representatives of civil society, CEOs of private companies, researchers, and farmers come together to discuss the direction of Africa's food systems.
A new five-year strategy that establishes a new way of practising agriculture on the continent and would support governments in fostering private sector involvement in agricultural transformation was unveiled during the meeting by the Alliance for a Green Revolution in Africa (AGRA), a farmer-centered, African-led and partnerships-driven institution.
Hailemariam Desalegn, chair of the AGRA board, revealed the $550 million implementation plan.
To enable their full participation in the sustainable expansion of Africa's food systems, AGRA committed to working with smallholder farmers within the terms of the new strategy, with the goal of reaching 28 million farmers in 15 countries.
A 25% boost in funding for SMEs run by women will result from the new policy, opening up new opportunities for women and young people to succeed in farming.
The strategy was created in a way that, according to AGRA President Agnes Kalibata, represented everyone's daily existence.
Source : www.dailynewsegypt.com