Aesthetic and More Recyclable Packaging with In-Mould Labeling
Posted on : Wednesday , 20th July 2022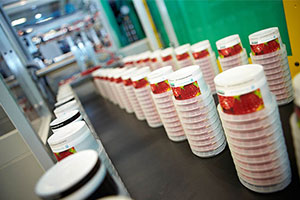 In-mould labelling (IML) is one of the most cutting-edge and inventive labelling methods in the plastic packaging sector. During the injection moulding process, pre-printed labels are infused into the package in IML. In comparison to both direct inking and sleeve shrinkage technologies, the combination of these two creates packaging that is superior in quality, extremely appealing, sturdy, and lasting.
IML packaging is a recyclable single-material packaging since it does not require a separate adhesive film, which is often constructed from various plastic compounds.
Customers now favour packaging manufactured from the IML technology in huge numbers as they become more aware of the effects packaging technologies have on their health and the environment. Due to this, suppliers are now using the cutting-edge IML production process rather than the conventional packaging manufacturing procedures.
The major maker of Fast Moving Consumer Goods (FMCG) packaging in East Africa, Silafrica, adopted the IML process for the production of yoghurt cups as the seventh firm worldwide and the first in Africa. This has allowed Silafrica to have one of the quickest supplier lead times in the nations where it operates, as well as giving customers complete creative control over the look and feel of their brands since changing the label design to reflect special offers and campaigns is incredibly simple and affordable!
The IML yoghurt cups made by Silafrica are highly smooth, providing them a distinct identity on the shelf and boosting the likelihood that a client will choose the brand. They are available in various sizes and volumes as shown in the table below.
As a result of aligning themselves with the circular economy and obtaining more attractive packaging, yoghurt processing businesses in Kenya, Tanzania, and Ethiopia are already benefiting from the value created by the Silafrica yoghurt cups. This has increased customer loyalty, increased revenue, and a high compound annual growth rate (CAGR).
Source : www.marcopolis.net