The frozen food packaging market in Africa is anticipated to expand profitably
Posted on : Monday , 27th June 2022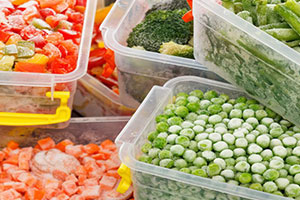 In the next five years, the market for frozen food packaging in Africa is anticipated to increase at a rate of 4%.
Packaging for frozen food could stay intact during sealing, filling, freezing, transportation, storage, thawing, and occasionally cooking. Producers have advanced packaging that might travel directly from the freezer to the microwave since more frozen foods are cooked in a device called a microwave oven.
Due to the increased demand for frozen packaged foods, the frozen food packaging industry trend has been accelerating quickly. To save time, there is a significant reliance on frozen meals packaged and ready-to-eat comfort foods. The market for frozen food packaging has grown as a result of increased urbanisation, the extension of perishable goods' shelf lives, and an increase in investments by packaging companies in cutting-edge freezing techniques.
Bakery goods and frozen processed food are the two main categories of packaged food. Frozen ready-to-eat foods are one of the newer categories in this industry. Colder storage temperatures can significantly increase storage life. Food quality demands among consumers are rising.
The market for frozen food packaging is expanding as a result of rising product quality recognition among consumers. The need for frozen food packaging has expanded throughout the Middle East and Africa due to economic expansion and changing lifestyles, and the market is predicted to expand profitably.
For those with limited resources or access to fresh meals, frozen food is a valuable source of nutrition. Food does not come into contact with a can's metal due to its lining. Epoxy resin, produced from polymers containing bisphenol A, has become popular for can coatings because it resists metal corrosion and can withstand sterilization's high heat levels.
From the moment food is produced until it is eaten, frozen food packaging helps keep it fresh. In comparison to foods preserved in other ways, frozen foods are better able to retain their natural colour, flavour, and texture as well as a greater portion of their nutrients. Mostly, baked foods that are packaged in bags, boxes, tubs, cups, trays, wrappers, and pouches, as well as fruits, vegetables, meat, and seafood.
The convenience of retail establishments in the area has expanded, which has contributed to the rise in demand for frozen foods. In recent years, the demand from retailers has grown significantly. These products are typically made to be portable, strong, and light, and one well-known method of packing them is in frozen meals. The demand is anticipated to be driven by the rising demand for snack foods, both in terms of processed foods and fresh goods.
Source : www.researchandmarkets.com