Aqua Africa has taken over Trashy Bags Africa.
Posted on : Thursday , 30th December 2021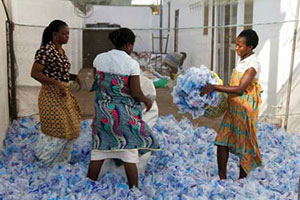 Aqua Africa, a UK-based water filter company, has announced the acquisition of Ghana-based Trashy Bags Africa for an unknown sum.
Trashy Bags Africa makes environmentally friendly bags from of discarded plastic water sachets.
The commercial social institution has collected and recycled almost 30 million plastic sachets since its inception in 2007.
Aqua Africa is said to have been assisting Trashy Bags' objective of removing plastic from the streets of the African country for the past few years.
More than 60% of the country's population gets their clean drinking water from heat-sealed sachet water packets.
Trashy Bags Africa has been making goods from discarded plastic water sachets and other debris, such as advertisement hoardings, to combat the plastic waste problem.
Apart from cleaning, all of the items are upcycled rather than reprocessed, resulting in low energy use.
Trashy Bags Africa collects around 200,000 plastic sachets every month through a commercial company network.
Through the collection of unwanted plastic sachets, each commercial enterprise stands to profit.
"We are happy with this acquisition of Trashy Bags, and it marks an essential threshold from which to move forward in confronting the challenge of plastic trash through commercial activity," said Trashy Bags Africa CEO Philip Foster, according to Graphic Online.
"The newly renamed Trashy Bags Africa will continue to offer a superb assortment of repurposed water sachet items."
"The corporation plans to export 70% of the commodities it manufactures in Ghana." Our products are well-known throughout the world, since we have already provided goods to the United States, Japan, the United Kingdom, and other parts of Europe."
INEOS Olefins & Polymers Europe and Plastic Energy recently collaborated on a trial to convert "hard to recycle plastic material" into plastic for use in food packaging and other common applications.
Source : www.packaging-gateway.com