Hybrid to invest over $300,000 in irrigation
Posted on : Friday , 7th August 2015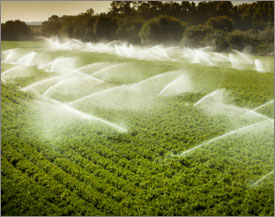 ZAMBIA - Hybrid Poultry Farms Limited intends to invest US$310,000 to improve existing irrigation facilities and equipment.
Hybrid Poultry Farms Limited plans to increase its investment portfolio in irrigated farming by improving existing irrigation facilities and equipment. This will be done by increasing the farm reservoir storage capacity.
"The implementation of the project will start as soon as necessary approvals are granted by relevant authorities. According to estimates made from the bill of quantities, the proposed dam is expected to cost US$310, 000," reads an environmental impact assessment (EIA) report submitted to by Hybrid Farms to the Zambia Environmental Management Agency (ZEMA).
To address effects of droughts and unpredictable rain pattern, it's necessary that a reliable water supply source such as a dam is constructed to sustain irrigation throughout the year, the EIA report reads.
According to the EIA report obtained by Daily Mail yesterday, Hybrid Farms intends to construct an earth dam for water storage to support crop irrigation especially in dry months of the year.
By engaging in the proposed dam project, Hybrid Poultry Farms hopes to sustain its crop production and contribute to national economic growth.
Hybrid Poultry Farms has partially depended upon rain-fed agriculture but with the ever-changing and unpredictable weather patterns, the company has decided to increase irrigable crop production by expanding the size of the dam.
"Hybrid Poultry Farms would like to share in the profits from the agriculture sector by diversifying and increasing production after realising the role which the private sector can play in a liberalised economy under enabling national economic policies currently prevailing in Zambia," the reports reads.
Source : www.agribusinessafrica.net