Kenya's tea exports rise in first four months despite depressed leaf prices
Posted on : Thursday , 22nd July 2021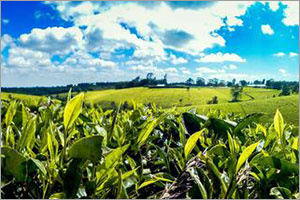 KENYA - Kenya's tea exports rose by 18.9 percent in the first four months of the year to 202.75 million Kilograms (Kgs), compared to 172.43 million Kgs recorded during the same period of last year.
According to the Tea Directorate, the total export volume for the month of April 2020 was 14% higher compared to 43.55 million Kgs of April 2020, reaching 49.45 million Kgs.
Pakistan was the leading buyer of Kenyan tea in the first four months, importing 73,587,466 tonnes, a rise from 58,293,459 tonnes purchased in the previous corresponding period.
While in the final month of the period under review, April, the South Asian country bought 17.94 million Kgs, accounting for 36.3% of the total export volume.
Other key export destinations for the highly sort after crop in April were Egypt (9.95 million Kgs), Sudan (3.89 million Kgs), UK (3.75 million Kgs), Russia (2.08 million Kgs), UAE (2.01 million Kgs), Yemen (1.24 million Kgs), Nigeria (1.09 million Kgs) Kazakhstan (1.06 million Kgs), and Iran (0.55 million Kgs).
The top ten export destinations, most of which are traditional markets for Kenyan tea accounted for 88% of Kenya tea export volume.
Most of these markets recorded higher tea imports from Kenya compared to the same period of last year, with significant improvement in Sudan, Egypt, Pakistan, UAE and Nigeria.
Also, higher tea imports from Kenya were also recorded in non-traditional markets such as Switzerland, Sri Lanka and Netherlands and to certain seasonal markets such as Bangladesh, Qatar, Uzbekistan, Turkmenistan and Kyrgyzstan.
In contrast to the rising export sales, local tea sales for the month of April 2021 were lower at 2.81 million Kgs against 3.01 million Kgs for the corresponding month of 2020.
Cumulative local tea sales for the first four months period of 2021 were also lower at 11.29 million Kgs against 12.31 million Kgs for the same period of 2020.
The report notes that during the month of April, 35.92 million Kgs of Kenyan tea was sold through Mombasa Auction, which was lower as compared to 45.04 million Kgs sold in March and 37.82 million Kgs sold in February.
The decline is attributed to the dwindling price of the leaf at the market, which stood at US$1.90 per Kg compared to US$ 2.00 per Kg in March and US$ 2.10 recorded in February.
Lower Auction price to-date is attributed to higher supply and accumulated stocks along the value chain occasioned by good weather conditions experienced last year.
Demand has also been affected to some extent by reduced consumer purchasing power due to the effect of global economic recession occasioned by COVID-19 Pandemic.
Tea production in April dipped to 44.29 million Kgs compared to 48.69 million Kgs recorded during the month of March and 49.65 million Kgs for the corresponding month of 2020.
The lower production was attributed to depressed rainfall over most parts of the country, which was below the respective long-term mean rainfall amounts for the month.
Source : www.foodbusinessafrica.com