In Africa, Eco-Friendly food packaging are on the rise
Posted on : Friday , 2nd July 2021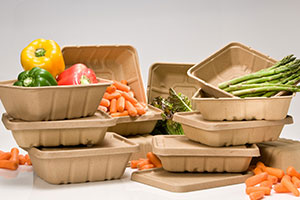 Green packaging, which is created from recycled materials and is considered safe and sustainable for both people and the environment, is referred to as eco-friendly food packaging. Increased pollution and reduced environmental waste as a result of environmental concerns, reduced food quality and safety, reduced food waste, and illnesses transmitted through food are only a few of the basic benefits supplied by this packing. The packaging materials are environmentally friendly and do not hurt the environment. It also has a lower influence on manufacturing energy usage.
Biological agents, such as bacteria and fungi, spontaneously breakdown eco-friendly items into raw materials. These are often natural Eco-friendly commodities that can be degraded by a biological process, such as fabrics, paper, wood, and food waste. Eco-friendly packaging refers to providing naturally degradable protection for products from manufacturing through consumption, primarily for information, identity, presentation, and convenience.
Consumer awareness of organic products is likely to be a major driver of market expansion in Africa's Eco-friendly Food Packaging industry. The expansion of this market is fueled by a shift in consumer preference toward eco-friendly and recyclable packaging, tough government regulations, and downsizing in the packaging industry.
Africa's eco-friendly food packaging is organic packaging manufactured from recycled materials that is both safe and sustainable for humans and the environment. The growing need for organic packaging solutions in a range of end-use industries, particularly the food and beverage industry, is driving the Africa organic food packaging market. Due to rigorous government restrictions for package manufacturing, the organic food packaging market in Africa is booming. Furthermore, factors such as an increase in the demand for prepared foods and increased healthcare awareness among consumers are expected to fuel the growth of the African organic food packaging market over the forecasted time frame. As a result, today's packaging companies are concentrating on producing recyclable, reusable, and biodegradable packaging.
The packaging industry is selecting green packaging technologies, such as the use of recyclable packaging materials, as a result of growing awareness of global warming and concern for the environment, which affects the organic food packaging market in Africa in terms of higher demand. Furthermore, innovative products such as grocery packaging and water-soluble packaging are helping to grow the African organic food packaging market. Along with growing environmental concerns, demand for confectionary and food goods is increasing along the way, and government restrictions are projected to embrace the African organic food packaging market. The African eco-friendly food packaging industry is developing and is likely to grow rapidly in the near future. With the introduction of bio-plastics, rising environmental interest in sustainable growth, and the application of severe rules, regulations, policies, and orders by government authorities, market growth is accelerating. Customers buying high-quality items are
becoming more aware of organic food packaging technology from Africa, which employs bio-plastics as the primary raw material. The value of organic packaging is recognised in a number of sectors. As a result, these factors are likely to propel the African eco-friendly food packaging market forward.
Due to its many qualities and benefits, such as durability and cost savings, the plastics section, by materials, is predicted to contribute a considerable part of revenue on the global market. The emulsifying category is likely to dominate the market by component. This is due to its increased use in the food service and retail industries, as well as bulk food and beverage transportation. Because of their degradability and recycling qualities, paper and cardboard are the preferred packaging materials in the food and beverage industry. Because of the heightened environmental danger, ready-to-eat, takeaway, frozen, and fresh foods are supplied and packaged in boxes.
The use of meat and related products is predicted to increase dramatically as a result of the increasing consumption of meat and meat-based cuisines. Due to a shortage of time, consumers are looking for quick eating solutions. The market for organic packaging in the food sector is expanding as consumer awareness of food quality, hygiene, and health improves. Beverages are usually sold in reusable or recyclable containers. Food can also be packaged in biodegradable packaging, such as paper and cardboard, which is fueling the food industry's expansion.
Source : www.marketdataforecast.com