Israel firm to install milling plant at the Galana-Kulalu scheme
Posted on : Friday , 7th August 2015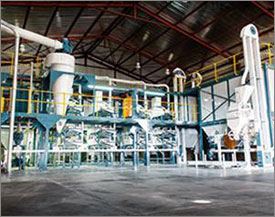 KENYA - A multi-million maize milling plant will be installed at the one million acre Galana-Kulalu irrigation project next month to enable processing of flour from the crop expected from the first batch of the 10,000-acre model farm.
The project contractor - Green Arava of Israel - has already procured the equipment from South Africa and is expected in the country any time from now.
This comes at a time when the firm is preparing for the maiden harvest early next month from the 1,000 acres that have been planted.
The state-of-the-art facility will have the ability to process and package the flour for sale immediately after leaving the farm.
"The contractors have already procured the milling machine and we expect that the installation will start next month," said National Irrigation Board chairman Sammy Latema.
The contractor is designing the logo that will be used in the packaging material to market produce from the scheme.
The Galana project is expected to cut Kenya's reliance on rain-fed agriculture that is blamed for the perennial food shortage, by employing the latest technology to cut cost of food production and boost yields.
An agronomist working with the contractor says that the minimum bags of maize that they are targeting from an acre is 80, basing on the good farming practices as witnessed in Israel.
Dr Latema said Water and Irrigation Cabinet secretary Eugene Wamalwa is in Israel to finalise on pending negotiations that would see the Israeli government release the remaining amount of money to fast track the implementation of the model farm.
Israel is funding the Sh14 billion project together with the Government of Kenya.
The model farm is being used as a demonstration block for developing the entire one million acres set aside for irrigation.
Phase two of the project, which involves 200,000 acres will commence as soon as the model farm is completed next year, while phase three is expected to put the entire acreage to work.
Galana, a Sh260 billion project, is a public private partnership and the government is expected to provide infrastructure services while the investors plant crops and set up manufacturing factories for processing produce.
Source : www.agribusinessafrica.net