Bioplastic future of African packaging
Posted on : Tuesday , 1st June 2021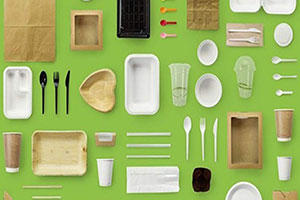 From 2020 to 2027, the global bioplastic market is expected to increase at a CAGR of 13.8 percent, from $4.6 billion in 2019 to $13.1 billion in 2027. In the predicted timeframe of 2020-2025, the African Biodegradable Plastics Market is expected to grow at a CAGR of 8.87%.
Renewable feedstocks such as corn, sugarcane, and cellulose are used to make bioplastics. Manufacturers can use bio-based plastics because of environmental qualities, the availability of renewable feedstocks, and favourable government legislation. The bioplastic market is expected to develop as the consumption of biodegradable products rises and the reach of bioplastic expands across industries. When compared to traditional synthetic plastic, bioplastic has the potential to reduce carbon dioxide emissions by 30% to 70%. The manufacture of bioplastics is a cost-effective and efficient procedure.
Bioplastic manufacture is an energy-efficient method, requiring 65 percent less energy than conventional plastic manufacture. Bioplastics have little toxicity and decompose quickly, therefore they do not affect the soil or the ecosystem. Furthermore, throughout the decomposition process, bioplastic emits very little greenhouse gas. Bioplastic has a carbon footprint reduction of 42%. Leading companies are showing interest in the manufacturing and use of bioplastic materials in a variety of applications due to their excellent technical features and functions.
Biodegradable plastic is a plant-based plastic that has no negative environmental consequences. It degrades in a fair length of time in natural base compounds. As a result, biodegradable plastic is composed up of molecules that can degrade spontaneously due to the action of microorganisms. Polylactic acid (PLA), Polybutylene adipate terephthalate (PBAT), Polybutylene Succinate (PBS), Polyhydroxyalkanoates (PHA), and starch blends are some of the most common biodegradable plastics.
In Africa's biodegradable plastic market, starch blends is the dominant category by kind. The growing demand for versatile packaging and horticultural products is fueling growth in this sector. Starch blends help businesses grow by reducing their carbon footprint. Starch-based plastic is biodegradable and has fewer drawbacks. Because of its versatility, the packaging sector is one of the most popular end-users of starch blends. Due to the rising food packaging market as a viable choice, the PLA segment is predicted to rise at a promising rate.
The global biodegradable plastic market is still in its early stages of development, with fresh growth prospects projected in the future years. Government endeavours to reduce single-use plastic and tight regulatory outlooks against the usage of conventional plastic items are some of the primary drivers driving market demand.
To lessen reliance on traditional plastics, industry trends are changing toward biobased goods. Furthermore, due to government laws, most firms in industries such as packaging, textiles, and agriculture are switching to biobased plastic. Such considerations have a significant impact on the growth of the biodegradable plastic industry.
Government efforts to boycott non-biodegradable plastic items and to produce biodegradable plastic goods are key driving factors for the biodegradable plastics market in Africa. These efforts are expected to increase the acceptance of biodegradable plastics, which is expected to help the biodegradable plastics market in this region. Africa is one of the continents that is projected to expand at the highest rate due to the abundance of sugarcane feedstock that can be used to make bioplastics.
Source : www.alliedmarketresearch.com