East Africa's agricultural packaging industry is projected to expand at a healthy rate.
Posted on : Tuesday , 4th May 2021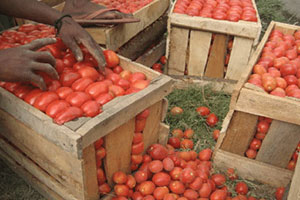 Agriculture packaging demand has been rapidly growing in the global market, owing primarily to innovations in the fields of horticulture and agriculture. Agriculture packaging is slowly but gradually establishing itself as a major industry in a number of fields. Due to the need to move farm produce to cities and suburbs, agriculture packaging is in high demand. Furthermore, advancements in the packaging industry have ushered in a new age of agricultural production. Agriculture packaging refers to the packaging of agricultural equipment, seeds, fodder, and any other agricultural-related products. As a result, there is a lot of space for growth in the global agriculture packaging industry. There is a good chance that new opportunities will open up in the global agriculture packaging industry. Furthermore, the global market's growth has been aided by the need for timely and secure delivery of agricultural products. The involvement of multiple local and regional players is expected to aid the global
agriculture packaging market's growth in the coming years.
The increased use of drums and bottles in the agricultural sector has increased demand in the global agriculture packaging industry. The storage of high-yielding seeds and pesticides in containers and drums has boosted the global agriculture packaging industry. Agricultural product packaging is also closely linked to the warehousing industry, which has aided business growth. The use of metals, plastics, and paper for packaging agricultural feeds is expected to play a significant role in the global agriculture packaging industry's development. The sector would also gain traction as a result of government entities' massive investments in agriculture packaging.
The global agriculture packaging market has seen phenomenal growth in recent years as a result of growing demand for convenience packaging for agricultural goods. As a result of the company's campaigns, consumers will be motivated to use sustainable agriculture packaging goods. As a result, the agriculture packaging market in the coming years has a lot of promise. Manufacturers in the agriculture packaging industry are focusing on reducing their carbon footprint through convenience and sustainable packaging. Several packaging solutions, including pouches, cans, bottles, and others, have a higher capacity to withstand unfavourable atmospheric conditions including rain, sunlight, and other influences, extending pesticide shelf life. Pesticides are protected from climatic, mechanical, and biological effects by being packaged in tubes, pouches, bags, and other containers.
Plastic packaging is influencing market growth due to the increasing demand for flexible packaging, which customers prefer. Many major players have launched agrochemical products in solid/dry formulations. The pouches and bags segment is expected to develop rapidly over the forecast period, as pouches and bags help to keep agrochemicals safe during storage and handling. Chemical pesticides, biologicalís, and chemical fertilisers are all packaged in these small, medium, and high barrier strength are the three levels of barrier strength.
As a result of the increasing agricultural sector in African countries, the East Africa region is expected to develop at a significant pace in the coming years. The global agricultural packaging market is expected to expand at a healthy pace in the coming years.
Source : www.globenewswire.com