Massey Ferguson launches two new combines for 2016
Posted on : Thursday , 6th August 2015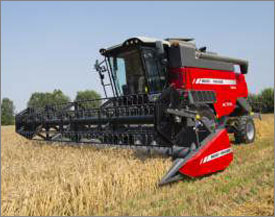 Massey Ferguson, an AGCO brand, has announced MF Activa 7340 and MF Activa 7344 combines for the 2016 season
The new five straw-walker, MF Activa 7340 combine replaces the MF Activa 7240 and is an entry-level machine powered by a 176 horsepower, AGCO Power 4.9 litre, four cylinder engine.
Highlighting the benefits of the new four cylinder combine, Adam Sherriff, marketing manager at Massey Ferguson, said, "It has been a long time since a combine has been powered by a four cylinder engine. This offers the operating benefits of a six cylinder, but in a lighter, smaller package. Fewer moving parts reduce friction leading to lower fuel consumption with quieter operation."
With the engine comes a new CANbus linked control panel in the cab whose colour screen shows a range of engine and combine operating information. The cab also has a new multifunction lever, similar to that used on larger Massey Ferguson combines, that provides convenient control of all the commonly-used combine functions.
Depending on the width of the crop being harvested, a new 'sectional' concave can be changed through the stone trap without needing to remove the elevator. The concave also has independent front and rear adjustment options to improve threshing performance.
The new MF Activa 7344, which replaces the MF Activa 7244, is now available with the option of a 5.5 metres wide PowerFlow header.
"PowerFlow is proven to boost output by up to 73 per cent in oilseed rape, 15 per cent in wheat and 12 per cent in barley. It is also particularly useful in difficult conditions, helping farmers secure more of their harvest, more quickly," explained Sherriff.
The five straw-walker MF Activa 7344 is powered by a new 218 horsepower, AGCO Power 7.4 litre, six cylinder engine. While being more powerful, it has the same drum and concave features as the MF Activa 7340 as well as the multi-function lever and terminal. A wider flanged Rockinger trailer hitch is an added option.
Source : www.africanfarming.net