Food Service Packaging Market in Africa
Posted on : Thursday , 11th March 2021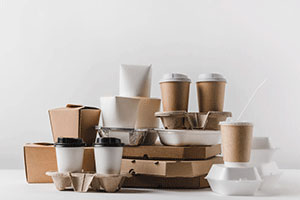 In terms of revenue, the global demand for Food Service Packaging was USD 46.65 billion in 2020 and is forecast to hit USD 67.94 billion in 2027, rising at a CAGR of 5.76 percent from 2021 to 2027.
Food service packaging has evolved over time to include a wide range of items such as bowls, plates, cups, flips, and paper packaging, among others. The global food service industry supports a diverse range of food service sectors, including both offline and online food service stores that serve a vast number of people all over the world.
Consumers have increasingly moved away from the conventional approach of cooking food at home and toward buying packaged goods. Food service packaging is manufactured from recyclable materials, requiring fewer resources and energy. As a result, packaging and disposable packaging are cheap, and their market space is decreased by 35%, making them profitable. The demand for convenience goods has risen as a result of the busy lifestyle, resulting in an increase in the demand for flexible and rigid packaging.
Increased demand for cost-effective packaging solutions, growing customer preferences for convenience food and handy goods, rapid urbanisation, and busy lifestyles that necessitate fast and manageable packaging are the major factors driving demand for food service packaging. More than half of the world's population now lives in urban areas, with increasingly dense cities, according to the World Urbanization Prospects survey. At the moment, 55 percent of the world's population lives in cities, with that percentage predicted to rise to 68 percent by 2050. The global urban population has increased dramatically from 751 million in 1950 to 4.2 billion in 2018. Today, more than half of the world's population lives in cities. By 2045, the world's urban population would have grown to 6 billion people, a 1.5-fold rise. The rapid urbanisation of the world has aided the growth of the food packaging industry.
Food packaging has become an increasingly important part of everyday life, and is closely linked to global urbanisation. In addition, the industry is being bolstered by rising demand for low-cost packaging. Good Packaging will improve the cleanliness and freshness of food while also providing opportunities for food producers to market themselves. Furthermore, proper food packaging can help to avoid food spoilage and prolong shelf life, resulting in less food waste. According to a survey, up to 1.3 billion tonnes of food is wasted globally every year, enough to feed 1 billion people who are food insecure. According to the World Packaging Organization (WPO), the global packaging industry has a turnover of more than $500 billion, with food packaging being a key component. Food packaging, on the other hand, is affected by local food preferences in various countries and regions.
Container & Paperboard Packaging holds the highest market share in the food service packaging market in 2020. Ready Made Food Service sector dominates the application segment of the food service packaging industry, accounting for 35.72 percent of the market in 2020.
As Urbanization is catching up with Africa so is the the global food service packaging market owing to the increasing urbanization in the developing nations.
Source : globenewswire.com