Hospitality business in Ethiopia embarking on packaging
Posted on : Friday , 11th December 2020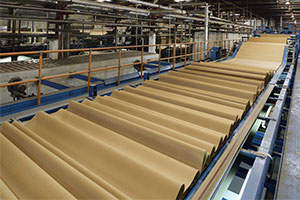 After spending nearly 121 million Br, a local company mainly engaged in the hospitality sector has waged the manufacture of packaging materials. This month's activity begins with Yhaenu Packaging & Printing.
The plant was constructed in Tatek industrial zone, in Ashewa Meda region in the town of Burayu, Oromia Special Zone, by Yhaenu Plc, the South Star International Hotel's parent. The plant is to manufacture on-board boxes primarily for food products along with paper packaging, boxes, containers and wrapping.
The plant which is resting on a 6,200Sqm of land is expected to produce carton packaging of 31.7tn every day, running in three shifts around the clock.
Yhaenu Plc was set up by four people in 2003, with one million Birr, its general manager Bonsa Mamo said, that It's going to be at least for half a year with 60PC as the industry fresh. "Thereafter we'll start production at full capacity."
Oil seeds and pulses such as sesame seeds, niger seeds, dried beans and coffee have been exported to Yhaenu Plc for 16 years. The facility employed 300 staff, 88 of whom were professional workers. The remainder will be staff with a blue collar who perform the processes of corrugation, slitting, printing, packaging and packing.
The factory itself began construction from the past two of years and Yhaenu imported the machinery from China. The hardware that is imported comprises plates, cutters, a sticking machine, a corrugation machine as well as packing machinery.
According to Bonsa, a major increase in local demand for packaging materials was caused by massive investments and manufacturing ventures.
The plant will import raw materials from European countries, South Africa, United States, and Brazil such as power liner, test liner and fluting equipment. Kraft liner is the flat, outermost cardboard sheet, while the test liner is the innermost cardboard layer. The third entry, which is fluttering, is used for the central part of the corrugated carton.
Supplementary raw materials like printing ink and adhesives and will be purchased locally from the domestic market.
Yhaenu joins 198 manufacturing factories in the country for packaging materials, 20 of which manufacture packaging for cardboard. Three years ago, 39 million dollars were spent by the nation on importing packing machinery.
Michael Tomas, Business Analyst at Precise Consult, a management consultancy company which has supported corporations, governments and non-profit enterprises throughout the country since 2007 argues that the sector booms because it is growing rapidly in the manufacturing sector and requires packaging materials, stating that the boxes in the local market are high in demand.
Source : allafrica.com