Vacuum packaging making its way in the food industry
Posted on : Friday , 16th October 2020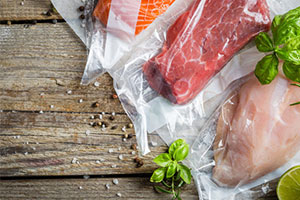 Vacuum packaging has gained prominence with consideration in the demand with the devouring of packaged and processed food. It has also gained popularity with the aspects of flexibility, convenience and Ease of handling. With the consumers top priority being hygiene after a lot of awareness is alleviating the progress of vacuum packing techniques. Furthermore with the increase in disposable income and the readiness to on the consumption of food products which are safe and hygienic is expected to drive the growth in the vacuum packaging market.
Globally many companies are affected by the global pandemic, packaging industries is no exception. Short-term sales growth in this economic pace was in favour of many suppliers. But with the interruption of safety measures from COVID-19, the consumer demand heightened for packaging with an extended shelf life. With the onset of the Pandemic Outbreak about 15-20% increase in the expenditure of the consumer has been witnessed in grocery dry products of food products.
Factors like demand for Packed and processed Food, Demand for Lightweight Packaging, Increase in Shelf Life and Demand for High Barrier Plastics are expected to play a role towards the growth of the vacuum packaging market.
In the Vacuum Packaging Market Segment, the polyethylene (PE) segment is anticipated to expand with the topmost CAGR. PE is proving more favrouble due to its lightweight, flexibility, strength, high-quality sealing capability and cost-effectiveness. PE vacuum-packed product sustains for a longer timer period due to its high moisture resistance.
The growing economy of East Africa is expected to boost the market for Vacuum packaging. Around 77% is the share of the consumer flexible packaging market in the food sector. The infiltration of flexible material has increased due to the trends in easy packaging technology like small vacuum machines, hand-held vacuum sealers, etc. The flexible materials demands in expected to grow due to the materials like flexible pouches and other material types can be managed with ease while vacuuming. Vacuum flexible packs are more fitting in the kitchens of hotels and restaurants. The dominant users of flexible material are airlines, hotels and restaurants. The vacuum packaging market is expected to grow further due to the increase in the demand for sustainable packaging for poultry products, fresh and processed meat.
Source : compelo.com