Two wheel tractors assist Zimbabwe and Ethiopia Farmers
Posted on : Tuesday , 21st July 2020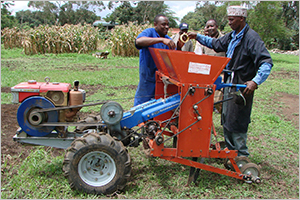 Smallholder farmers in Zimbabwe and Ethiopia have embraced small-scale mechanization.
The Farm Mechanization and Conservation Agriculture for Sustainable Intensification (FACASI) project has helped farmers access and use tractors that reduce the time and labor needed to grow, harvest and process crops.
To ensure long-term sustainability, the project and its partners helped support and develop local enterprises which could supply, service and operate the machines, and encouraged the development of supportive government policies. From its inception, FACASI went beyond simply providing machinery to farmers, and instead envisioned mechanization.
"Mechanization is a system, not only a technology". Mechanization needs infrastructure such as roads, fuel stations, spare part dealerships, maintenance centers, training centers and appropriate policies. The FACASI project worked to introduce and develop new small-scale machines, including two-wheel tractors, small shellers and threshers, and small pumps.
This included adapting a range of attachments that could be used to mechanize on farm tasks. The project developed local business opportunities around the supply, maintenance and use of the machines, to ensure that users could access affordable services and equipment.
Researchers saw significant potential for mechanization to reduce the labor intensity associated with smallholder farming, while encouraging application of conservation agriculture techniques and developing rural service provision businesses.
"FACASI has proven that small mechanization is viable in smallholder". It has shown smallholders that they don't have to consolidate their farms to benefit from conventional machines, but that machines can instead be adapted to their farm conditions. During its course, the project improved the efficiency and productivity of smallholder farming, reducing labor requirements and creating new pathways.
FACASI has laid the groundwork for cheap and practical two-wheel tractors to proliferate. In Ethiopia, there are currently 88 service providers whose skills has been directly developed through FACASI project interventions. "This has been a flagship project and validated the potential for small scale mechanization and conservation agriculture".

Source : thezimbabwemail.com