Kenyan dairy farm project set up by Italian investors
Posted on : Tuesday , 4th August 2015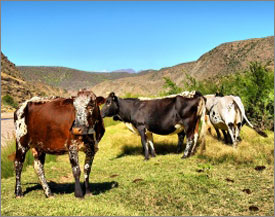 Italian firm Sace-Servizi Internazionali together with nine specialists in the beef and dairy value chain, is investing US$20mn in a model dairy farm at MoiUniversity in Eldoret, Kenya
The proposed model farm will manufacture yoghurt, butter and powdered milk, as well as have a feed chamber.
Upon completion later this year, the farm aims to produce more than 25,000 litres of milk daily from 1,000 high-yielding pedigree cows and generate around €3mn annually in revenues.
Already, MoiUniversity, located in the agricultural-rich North Rift region, has donated 300 acres of land for the project. The Italians are expected to transfer their expertise in dairy farming to the project.
"Dairy farming in Italy is among the best in the world and we plan to replicate the same technologies in Kenya," observed Luca Goldoni, one of the investors.
The project is also expected to generate 1 MW of power through biogas, helping to cut the university's hefty monthly electricity bill of US$220,000.
Also, the farm is expected to help train students in modern animal husbandry practices, such as artificial insemination.
"We plan to roll out a certificate course in artificial insemination, targeting farmers. We want the model farm to boost investment in dairy farming in Kenya and the region," said Professor Richard Mibey, MoiUniversity's vice-chancellor.
The Kerio Valley Development Authority (KVDA), a government parastatal, will also be a partner in the project. KVDA is providing capacity building and other logistics for the project.
Source : www.africanfarming.net