Kenyan Food Factory To Explore West African Market
Posted on : Thursday , 27th February 2020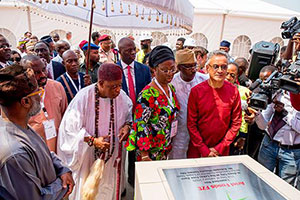 Firms from Kenya are rapidly volunteering out of the country's borders in the exploration of new markets and growth opportunities.

Sustained by successes back home and hunger for better profit margins, some firms are looking beyond the East African countries and especially Rwanda and South Sudan that have been the popular launch pads for foreign market forays.

"Ariel Foods play a major role in food and population security in West Africa and expands its production to Nigeria, through the production of Ready-to-Use Therapeutic Foods to supplement the diets of persons and to feed malnourished children with special nutrition requirements," Chandaria said.

The new investment will boost food security in a region, says Dhiren Chandaria, Ariel Foods chairman.

Besides Ariel Foods, other firms that are setting shops in Alaro are Kenol, Universal Homes, HMD Africa, Sana Industries, Loatsad, and ASB Valiant.

Alaro City is modeled on Kenya's Tatu City located in Ruiru, 20km from Nairobi's Central Business District. It is a mixed-income, city-scale development with industrial, and logistics locations, offices, homes, schools, healthcare facilities, hotels, and entertainment spots.

The food manufacturer is a sister company to Insta Products (Kenya) and its entry to Nigeria from where it intends to produce food targeting the larger West African market signals its appetite for a slice of the 400-million strong people market.

During the launch, Rendeavour also unveiled other multi-million dollar partnerships with firms specializing in housing and construction, detergent manufacturing, energy, and media development.

Universal Homes, for instance, has already put up 2,000 homes in Tatu City and the firm hopes to replicate its expertise and experiences in Alaro.
Source : biznews.com