Ethiopia Deployed Four Pesticides Spraying Airplanes To Fight Locust
Posted on : Friday , 24th January 2020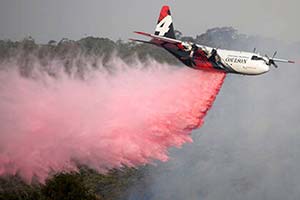 The Ministry of Agriculture of Ethiopia says it has deployed four pesticides spraying planes in four directions to contain the envision of the desert locust.

"We have deployed four pesticides spraying airplanes to contain envision of desert locust coming from neighboring countries," said Zebdewos Salalato, Plants Protection Director at the Ministry of Agriculture. He stated that desert locust envision has been observed over the past few days in the Southern parts of Ethiopia mainly coming from Somalia, Kenya, Somaliland, and Puntland.

The airplanes are deployed with pesticides to stop the locust influx at the border towns of Gode Kebridehar, Kelato, Bale Robi, Teletele, Konso.

Mentioning that because of the preparedness of Ethiopia and the Ministry's effort, Mr. Zebdewos indicated that the influx of desert locus which initially hit Ethiopia was contained with minimal damage on crops.

As a result, there was no decline in crop production or harvest for the current Meher Season.

The crop production of Ethiopia for the Meher this Meher Season has increased by 4.33 percent compared to the previous year same period and reached 329 million quintals, according to German Gaguma, Agriculture Extension Director at the Ministry of Agriculture of Ethiopia, who indicated that the figure is verified by the Central Statistics Agency of Ethiopia.

"The impact is insignificant in our crop production through some crops such as sorghum were eaten by the locust initially.

As a result of our speedy response to contain the situation, the current Meher production, and size of land covered by crop has increased compared to last year," Mr. Germame said, indicating that this time around also his Ministry has been working hard to control the desert locust and stop from breeding within Ethiopian territories.

It is also indicated that the Government of Ethiopia has recently signed a partnership agreement with the Kenyan government to contain the spread of the desert locust.

The Directors stated that even though there are also similar agreements with Somalia and governments, because of not so strong early warnings and responses in these countries, it wasn't easy to control the spread of the locusts.
Source : biznews.com