South Africa Is Repaving Its Roads With Recycled Plastic Bottles
Posted on : Friday , 17th January 2020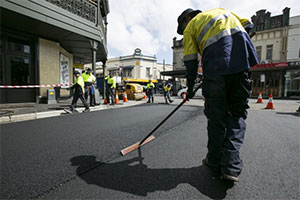 Plastic bottles are being recycled to make roads in South Africa, with the hope of helping the country manage its waste problem and improve the quality of its roads.

Shisalanga Construction became the first company in South Africa to lay a section of road that's partly plastic, in KwaZulu-Natal (KZN) province on the east coast.

It has now resurfaced half a kilometre stretch of the road in Cliffdale, on the outskirts of Durban, using asphalt made with the similar of almost 40,000 recycled two-liter plastic drinks bottles.

While Zimbabwe battles with rehabilitating its dilapidated road network due to the high cost of tar, neighbouring South Africa has come up with an alternative to the high cost by using recycled material.

In order to make the roads, the company uses a thick plastic typically used for milk bottles known as high-density polyethylene (HDPE). They replace six percent of the asphalt's bitumen binder, so every ton of asphalt contains roughly 118 to 128 bottles.

The method releases fewer toxic emissions than during traditional processes and its compound is more lasting and water-resistant, with standing temperatures as high as 70 degrees Celsius (158F) and as low as 22 below zero (-7.6F).

While the cost is similar to other methods, the company believes there will be a financial saving as its roads are expected to last longer than the national average of 20 years. "The results are amazing," said general manager Deane Koekemoer. "The performance is phenomenal."

Shisalanga says that by turning bottles into roads it is creating a new market for waste plastic, allowing its recycling plant partner to take more out of the nation's dumps.

"The performance of our plastic mix is better than traditional modifiers, the tiredness seems improved and resistance to water deformation is as good or better," he adds.
Source : newsbiz.com