Canon Partnered With The Kenya Film Commission To Promote The Kenyan Film Industry Locally And Internationally
Posted on : Tuesday , 8th October 2019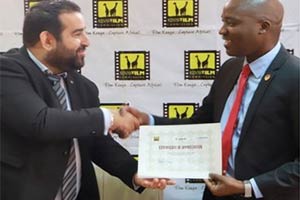 Canon and the Kenya Film Commission (KFC) have agreed to collaborate to accelerate the development of the film industry in Kenya.

The collaboration aims to raise awareness of the importance of the film and photography sectors in Kenya, to support their development by facilitating access to the brand's latest innovative technologies and cameras, and to support job creation in Kenya.
The focus of this collaboration is to help young people develop their creativity, provide them with the skills they need to facilitate their professional integration in East Africa and wider pan, as well as help them seize international opportunities.
To achieve this, the programme matches young Kenyans with professional talents who can share their knowledge of the film industry and give them access to their deep experience.
Canon, which has been present on the continent for more than 50 years, is committed to supporting the sustainable development of African countries.
Since the education and training of youth is key to unlocking further development in Africa, Canon, through the Miraisha Programme launched in 2014, is enhancing initiatives that help young people learn and develop skills.
One of the objectives of the Miraisha Programme is to support the development of employment in key African markets while promoting local sustainability.
Canon Miraisha and Kenyan Film Commission Film boot camps in 6 counties across Kenya.
Canon Middle East, a subsidiary of Canon Europe, is the operational headquarters for Canon in the Middle East and North Africa and is based in Dubai, UAE.
Amine Djouahra, Sales & Marketing Director - B2C, Canon Central and North Africa-, stated: "Education and training are important success factors in providing young people with the skills necessary to enter the job market, but also to help communities adapt to changing skill requirements, increase productivity and to raise a country's skill level. Young people are the future of their country, and it is up to all of us, dynamic actors in Africa, each in our own way, to provide them with all the necessary means to help them build their future. We are very proud to lead these different projects alongside the Kenyan Film Commission and to support them in this fantastic new project, which will give greater visibility and appeal to the film sector."
Source :