Original Beans Has Launched Its Bars In New Eco-Friendly Packaging
Posted on : Thursday , 5th September 2019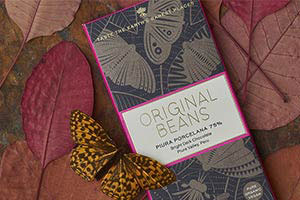 Each single origin bar artistically displays the animal that lives where the cocoa beans come from. A mountain gorilla from the Virunga National Park in eastern Congo, for example, or an elephant from the Udzungwa National Park in Tanzania and other rare species.
Fine single origin chocolate bar brand, Original Beans, has relaunched its bars in new eco-friendly packaging.
The new updated wrapper designs are printed on sustainable paper made from FSC-certified wood cellulose, which was designed by Californian artist Kimberly Varella. It gives a sense of the luxury chocolate whilst also conveying the sustainability message and the conservation which is the heart of the social enterprise.
Philipp Kauffman, CEO and founder, said: "We have worked hard to produce the most environmentally friendly paper in the world which has not been easy as it is so natural. We are proud that it is biodegradable and fully compostable."
Sustainability is a focus of Original Beans ethos. The company runs The One Bar: One Tree program, which plants a tree for every chocolate bar sold, ensuring heritage cacao trees will remain for future generations.
To date, Original Beans has planted and preserved two million trees in the cacao origins. The tree planting efforts are carefully co-ordinated with local conservation programs that help empower farmers and their families and protect endangered wildlife.
Original Beans pays farmers a direct cacao purchase price double of Fairtrade and a guaranteed living income for people who matter, and in return are rewarded with world-class cacao with which to make world-class chocolate.
Original Beans Chocolate is climate-positive, as each tree planted absorbs 274g more CO2 than one chocolate bar emits in production.
Source : newzmart.com