Gallina Blanca Foods, A food Processing Company In Ghana, has launched A New Product Gino Max
Posted on : Friday , 2nd August 2019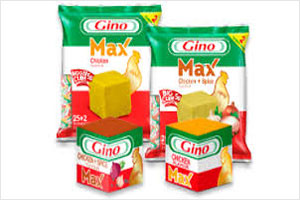 Gallina Blanca Foods, a food processing company in Ghana, has launched a new seasoning 'Gino Max' as it seeks to grow to the Gino range of products.

The company unveiled the new seasoning in three flavours; shrimps, shrimps plus spices and shrimp plus pepper.

The Gino Max is fortified with micronutrients for wholesome foods as part of the brand's ambitions of providing nutritious and affordable foods.

Speaking at the launch of the product, the Director of Marketing, GB Foods Africa, Anshul Midha reiterated that Gino's entry into the seasoning market stems from their commitment to providing quality and nutritious choices that will contribute to the growth and wellbeing of Ghanaians.

He noted that the new products manufactured using locally sourced ingredients which have been refined to provide the perfect nutritional value, reports GhanaWeb.

"We have three varieties of seasoning and these varieties are there to celebrate the local flavours of Ghana.

"We know how Ghanaians love their pepper, ginger, garlic and black pepper. All these have been translated into a quality performance and I'm sure if you try our product, we are not going to go back to any other brand".

"Gino as a brand has invested a lot of resources and time to understand the taste of the Ghanaian and what can actually elevate the taste of Ghanaian dishes. These cubes are going to help us get the taste and aroma of dishes", he said.

Gallina Blanca Foods (GB Foods) is a Spanish food company headquartered in Barcelona and has operations across various markets including in Africa, Russia, Italy and The Netherlands.

The company produces a range of products such as taste enhancers, milk powders, pasta, rice as well as tea and infusions under the brands Avecrem, Star, Gallina Blanca, Jumbo, Gino, Jago Gold Grand'Italia and Sogni d' Oro.

GB Foods has also entered into an agreement with CVC Fund V, to acquire 100% of the European group Continental Foods as it seeks to diversify its business platform.

Continental Foods was established in 1933 as a division of the Campbell Soup Company and was acquired by CVC Fund V in 2013.

Continental Foods owns a portfolio of iconic consumer brands such as Liebig, Royco, D&L, Erasco and Bla Band.
Source : foodbusinessafrica.com