Huhtamaki Unveils Its First Flexible Packaging Manufacturing Plant in Africa
Posted on : Thursday , 11th July 2019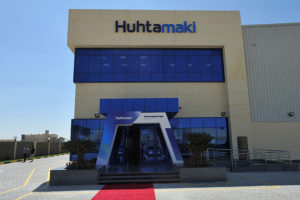 A new flexible packaging facility has been launched in Egypt by Finnish packaging expert Huhtamaki and its joint venture partner.

The greenfield facility was established at a total cost of EURO 23 million with Huhtamaki's share at approximately EURO 17 million, the firm said in a press release.

The plant is owned and run as a joint venture between Espoo-based packaging company and private investor Ayman Korra, who had earlier collaborated on fiber packaging in Egypt with Huhtamaki.

Korra said that 70% of the raw material of the product is produced locally, pointing out that the Joint Venture aims to sell 50% of the output on the domestic market and export the rest to African and European markets.

The manufacturing facility, built over a region of 37,000 square meters, is anticipated to experience potential expansion, Huhtamaki noted.

The production system marks the first footprint of Huhtamaki's flexible packaging production in Africa.

The facility which commenced operations this spring will employ 250 people.

Olli Koponen, Executive Vice President, Flexible Packaging at Huhtamaki said, "With the new plant we can offer our current and new customers - both in Africa and Europe - the same top quality with shorter lead times"

According to a press statement, Huhtamaki serves its global customer base through a network of 78 manufacturing units and additional 24 sales-only offices in 34 countries.
Source : plasticsnewseurope.com