Bubs Australia Entered A Partnership With Kidswant China's leading mother And Baby Store
Posted on : Saturday , 29th June 2019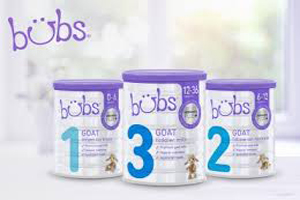 Bubs Australia Entered A Partnership With Kidswant China's leading mother And Baby Store

Bubs Australia has entered a strategic partnership with China's leading mother and baby store chain, Kidswant as part of the strategy to expand into the Asian market.

The partnership is part of the Bubs and Beingmate joint venture ((Bubs Brand Management Shanghai Co. Ltd)) formed in May this year to bring baby food and infant formula in the market.

With the agreement, Bubs' food products including Bubs Organic will be available in 275 Kidswant stores in key shopping areas in 123 cities throughout China.

The corporation brings together a strong baby products portfolio and an extensive distribution market in China, with a target to reach RMB 30 million (US$4.37 million) within FY20.

"The cooperation with Kidswant is the most important project that has been signed and implemented since the establishment of our joint venture company with Bubs," said Beingmate CEO Mr Xiufei Bao.

Kidswant Children Products Co is the leading player in infant and child retail with the largest market share in China, providing innovative data and consumer relations based omni-channel family service.

They conducts its business mainly in large physical stores, online shopping malls, a mobile terminal APP and other shopping channels.

Established in 2009, the company services which also include parenting and purchasing consulting service have grown to reach 275 large-scale physical stores with an annual turnover of approximately RMB 10 billion (US$1.45 million).

"We are delighted to establish this strategic partnership with Kidswant, the number one baby store chain in China," said Bubs Chief Executive Officer, Kristy Carr.

"Kidswant's store footprint and full-service integrated membership model provides us with immediate access to our core potential customers in a trusted ecosystem."

Bubs Australia has also announced a strategic partnership with Fonterra to supply its certified organic grass-fed cow milk infant formula in Australia.

Fonterra will supply Bubs with organic milk powder for production of Bubs Organic infant formula range at its facility in Darnum, Victoria.

Bubs also recently acquired infant formula producer Deloraine Dairy with an aim to expand its product range.
Source : foodbusinessafrica.com