Dynamic Plastic Packaging acquiries Koenig & Bauer's Evo XD flexo press in a bid to boost production
Posted on : Wednesday , 12th June 2019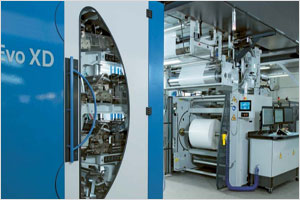 The Evo XD flexo press from Koenig & Bauer Flexotecnica was recently purchased and installed by Dynamic Plastic Packaging at its plant in South Africa.
Dynamic Plastic Packaging brought the press into production and celebrated the official opening with the grand open house of the company.
Roy Mahabier, technical manager for Dynamic Plastic Packaging, said: ' We are really glad and our cooperation in Koenig & Bauer's Flexotecnica team has been flawless. ' He also went on to add, 'We enjoyed an exceptionally open and reliable relationship from the very beginning. Exactly what we expected is the press output from our investment.'
Koenig & Bauer stated that in Wurzburg, German headquarters, the Evo XD press was the first such press of this kind to be assembled.
Dr Peter Lechner, CEO of Konig & Bauer Flexotecnica, said, 'In flexible packaging printing, we were able to increase our share of the world market to 9% and the volume for new orders was never higher.'
He added, 'This is naturally also an expression of the very fruitful cooperation between Koenig & Bauer's individual business units.'
Dynamic Plastic Packaging, which contributes to the printing of flexible packaging for the food industry, has selected the CI flexographic press of the Evo XD series.
Dynamic Plastic Packaging was founded in 2008 and over the years has expanded its manufacturing capacity and increased its product range quickly gaining a reputation as a preferred supplier, providing reliability, quality and cost savings.

Source : compelo.com