FOOD AND AGRICULTURAL INDUSTRY BUSINESS MEET AT FOODAGRO KENYA, IN AUGUST 2019
Posted on : Thursday , 23rd May 2019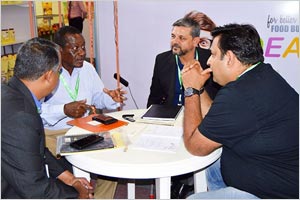 Kenya's premier business event for the Food & Agriculture industry returns to Nairobi from 01 - 03 August, 2019. Kenya is one of the major access points in Africa which relies on the huge volume of imports in the country for its own consumption to cater to over 40 million consumers. The 22nd FOODAGRO AFRICA 2019 will introduce top products, equipment and machinery presented by exhibitors from over 26 countries. Building on the success of previous events, the FOODAGRO AFRICA 2019 just gets bigger and better.

Last year, Kenya imported goods valued at $200 million and re-exported goods worth $520 million. Kenya's growth resumed in the last five years reaching 5.7% in 2018 placing the country as one of the fastest growing economies in Sub-Saharan Africa. The economic expansion has been boosted by a stable macroeconomic environment, low oil prices, rebound in tourism, strong remittance inflows and a government led infrastructure development initiative. Looking ahead, near-term gross domestic product growth (GDP) is expected to rise to 5.8% in 2019 underpinned by recovery in agriculture, better business sentiment, and easing of political uncertainty.

The Food, Hospitality and Agriculture sectors are key to the future of the African continent and represent an immense market with great potential for investors internationally as well as locally. The importance of these sectors to Africa is reflected in the fact that 70 percent of the population draws employment directly from the Food, Hospitality and Agriculture sectors. The food market in Africa is also projected to be worth a whooping USD 1 trillion by 2030, according to the World Bank.
"Kenya's consumer market is poised for considerable expansion in the coming years, boosted by consistent GDP growth, a growing middle class with increased purchasing power and the development of new shopping malls and e-commerce portals." says Mr. Daniels, Exhibition Manager - Expogroup.

FOODAGRO AFRICA ended on a very bright note last year with 100+ exhibitors and 4400+ visitors, representing 26 nations from around the globe choosing the platform to launch their products into the vast markets in Africa. The industry's newest products were on display, and this year's edition promises to be an even grander affair with several new facets added to the event. The 22nd edition of the event will also attract a number of the industry's biggest names including experts, stake-holders, directors and other high profile decision makers that makes it the ideal entry-way into the African economy for interested investors.

FOODAGRO remains a major hub for business transactions and development in Africa, annually due to its proven track record in the region. The event will continue to bring the newest and most innovative products in the food, hotel and agriculture industry from around the world, directly to Africa.

Visit: https://www.expogr.com/kenyafood/ for more information or contact:
Joel D'Silva
Media Manager
Foodagro ( East Africa )
Email: feedback@expogr.com
Int'l: +971 43 050755 | Kenya: +254 706 129 142 / +254 773 594 021
Source : expogr.com