Mumbwa in $25m irrigation project
Posted on : Sunday , 2nd August 2015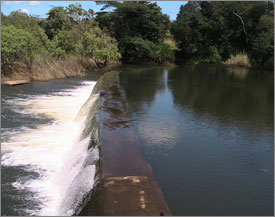 ZAMBIA - German multinational company, Amatheon is constructing two dams at a cost of over US$25 million to boost farming activities through irrigation in Chief Kaindu's area in Mumbwa.
The two dams Abba and Katanga, are expected to be fully operational by 2016/17, respectively.
Amatheon Agri Group founder and chief executive officer Carl Heinrich Bruhn said the total investment for Abba dam is over US$15.6 million while Katanga cost is US$10.6 million.
Mr Bruhn said this when Minister of Agriculture and Livestock Given Lubinda commissioned the construction of the two dam, at different sites, which are part of Amatheon's expansion strategy in the area, on Wednesday.
"We will continue adding value to agriculture and social infrastructure development in the area... We are happy to further extend our infrastructure whereby we expect to increase our productivity and contribute to Zambia's further agricultural development and overall food security," he said.
Mr Bruhn said Katanga is a joint venture between Amatheon Agri Zambia and Toyota Tsusho Corporation with intentions to develop 2,700 hectares of land for cropping of maize, wheat and soya beans while Abba is part of a farming bloc expansion to develop 10,000 hectares for irrigation farming as well as cattle ranching and rain-fed cropping.
At the function, Mr Lubinda said Government is happy to witness such huge investments that aim at creating collaborations with Zambia in promoting the agriculture sector.
"With ten farming blocs that are almost ready for the people to go and settle on, this one [Amatheon] should be considered as the 11th farming bloc. Government is very excited with what is happening here [Mumbwa]. Amatheon Agri Zambia is an excellent example for sustainable investment in agricultural production.
"And to be told that these two dams will collect a total of 17 million cubic litres of water to irrigate more than 2000 hectares of land is indeed a great milestone," he said.
Source : www.agribusinessafrica.net