Tanzania's chamber of commerce to boost agriculture
Posted on : Wednesday , 6th March 2019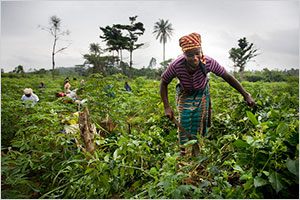 The special award for stakeholders who have done tremendous and extraordinary work that contributed to the growth of the agricultural sector last year, will be the first of its kind in Tanzania for 40 categories to be competed the grounds of innovation, quality and dedication towards the sector.

The TCCIA director Fatimah Hamis stated the awards will identify individuals and companies who have brought positive change to the society as well as selling Tanzania as the best destination for agriculture. She also added that these awards will act as catalyst towards bringing more people into the sector as well as empowering those already in the sector to do more.

In addition she also highlighted the achievements in the sector and that if well utilized can be of great importance to the industrialization drive that the country is focusing on currently so as to achieve a mid-income status by 2025. According to her, various products being produced can be used as raw materials for industries growth in the country. She justified the reason for the 40 categories stating that when someone does better in one sector, another one does the opposite, but is offered another chance in the other categories. The decision on who will win will be determined by a group of agriculture experts from the Ministry of Agriculture and Livestock and judges whose identities will be announced in due course.

The awards will start on March 6th and end on March 27th whereby farmers, agriculture companies and other stakeholders are called upon to pick up participation forms from the TCCIA offices or on various social media.

TCCIA established 1988 with the support of the Tanzanian government was formulated to strengthen the private sector thus an important step in moving on from a centralized, planned economy to a more open fixed economy giving full scope to privately owned enterprises and firms.

Agriculture is the leading sector in contributing to Tanzania`s GDP with 30 per cent contribution in 2017 and source of employment to over 70 per cent of the population.
Source :