New Holland delivers tractor fleet to Kenyan sugar mill
Posted on : Tuesday , 28th July 2015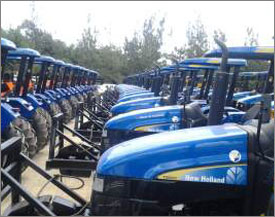 Kenya-based sugar manufacturer Butali Sugar Mills Limited (BSML) has taken delivery of more than 50 TS6000 2WD tractors from New Holland
CMC Motors, distributor for New Holland, officially handed over the tractors to BSML at its factory in western Kenya earlier this month. These units will join the company's existing fleet of more than 200 New Holland 90 horsepower TS90 and TS6000 tractors. With this addition to its fleet, BSML now owns the biggest fleet of TS6000 2WD tractors in sub-Saharan Africa.
The TS6000 tractors run on a intercooler turbocharged 4-cylinder engine that delivers high torque rise and requires little maintenance. There is a choice in mechanical transmissions of either an Econoshift transmission with 24 forward and six reverse speeds or a Synchro Command simple and robust transmission with 12 forward/reverse speeds fully synchronised in three ranges. The single-piece front drive axle efficiently transfers power to the ground and the rear axle is designed for maximum performance and durability. The hydrostatic steering with independent high-flow hydraulic pump ensures safe and precise manoeuvrability. The operator compartment has a wide platform and the controls are simple to operate, reducing operator fatigue.
BSML's mills have a raw cane crushing capacity of 2,500 tonnes crushed per day and are fed by 30,000 contracted farmers scattered throughout the area. To collect the cane from the farms, BSML runs a fleet of 200 tractors pulling sugarcane wagons, with each tractor operating for 20 hours per day.
Sanjay Patel, CEO of BSML, is enthusiastic about the new tractors. "We work our tractors hard, ferrying sugarcane from the fields to our mill on a daily basis with a radius of 30 km around the factory. The robust design of this tractor and the modifications made in the TS series over the years, especially keeping the mechanics simple to operate and maintain, have made this tractor ideal for our business," he said.
Source : www.africanfarming.net