Rwanda: Increased Coffee Production to Boost Economic Growth - CEPAR
Posted on : Monday , 3rd October 2016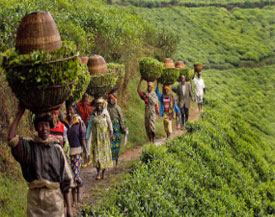 The president of Coffee Exporters and Processors Association of Rwanda (CEPAR), has said coffee is a key ingredient in achieving sustainable development.
Pierre Munyura Kamere said the Association was formed in 2010 to increase coffee production which is being implemented through the establishment of the fertilizer fund. The fund was initially implemented by National Agriculture Export Board (NAEB).
One of CEPAR's objectives is to promote and market coffee products in the country and beyond and it already exports almost 75% of Rwanda's coffee. The 20 members of the association buy and distribute fertilizers to farmers so that they can increase the coffee productivity in the country.
Munyura noted that the first achievement of CEPAR is advocacy since it's now a recognized entity by both the government and the Private Sector Federation (PSF).
Another achievement is the establishment of the fertilizer fund. Before it was set up, NAEB was responsible for buying and distributing fertilizers. This was quite challenging as farmers could fail to pay on time.
There were also delays in purchasing fertilizers due to bureaucracy in government institutions. When CEPAR took over the buying last August, the association was able to purchase 2500 metric tons of fertilizers. These were distributed among all coffee farmers and applied across the country in just one month.
"Rwanda is generally growing economically and socially. However, rural areas are not growing at the same pace as the urban areas; the coffee sector is one of the factors which will promote a balanced growth," he said.
Source : http://allafrica.com/